19 November 2019, 10:01 CET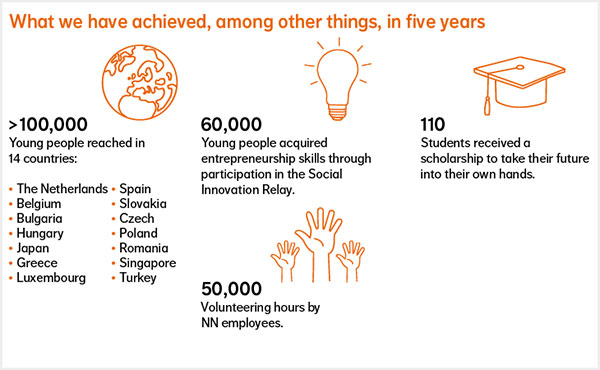 This year, NN Future Matters celebrates its fifth anniversary. As NN's community investment programme, Future Matters puts our resources and expertise to use to improve the financial well-being of young people in the communities around us. In the past five years, we have reached over 100,000 young people in 14 countries.
Through the programme, we work together with various projects and charitable organisations. For example, in the Netherlands we gave job interview training and coaching to improve young people's chances of finding a suitable entry-level job. With the Future Matters scholarship, we financially support Master's students from NN countries who are the first in their families to pursue a university degree, including with the guidance of an NN Mentor. The Social Innovation Relay (SIR) helps young people gain entrepreneurship skills relevant for the future of jobs.
Dailah Nihot, NN Group Management Board member: 'The initiatives that we support through Future Matters align with both our purpose and with the knowledge and expertise of our employees. These have been proven to positively impact communities, and we are proud of the positive difference we have made for young people. Not only by cooperating with charitable organisations, but also by making it possible for our colleagues to contribute their time and expertise. We are proud of the past five years, and look forward to continuing our efforts in the future.'
Since 2017, the From Debt to Opportunities Foundation (previously the 'Delta Lloyd Foundation') has been a part of the NN Future Matters programme. The Foundation works together with 30 partners and initiatives, and focuses on finding solutions for poverty as a consequence of problematic debt.