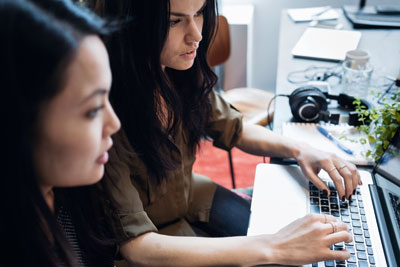 At NN Group we want to attract and retain the best talent out there who share our passion and commitment. One way we do this is by offering traineeships to the next generation of talented employees and potential leaders. Our traineeship is centred on personal development, problem solving, insurance, change management, and innovation.
Our latest traineeship for insurance employees in the Netherlands started on 1 September 2016. This development programme consists of five tracks: general management, finance, risk management, IT and HR. The entire duration of the programme lasts three years. For the first year and a half, the trainees experience their traineeship in a challenging position within the company. After their time in this position, the trainees look for a second position that will also last about the same time.
Learning on the job plays a significant role in the trainees' development process. They receive support, feedback, and knowledge from managers, experts as well as from senior leaders. In addition, we assign an HR Business Partner to coach them in their personal and career development during the entire duration of the programme.
The trainees learn to participate in a journey centred on personal development, problem solving, insurance, change management, and innovation. Our trainees are allowed plenty of freedom and opportunities to shape the programme with their peers. We also expect them to seize opportunities as they arise and to come up with solutions to problems they face.
During the programme we organise special meetings with members of the board to introduce our culture of 'You matter' to our trainees. During an intense introduction week our trainees learn about what 'You matter' means for the employees at NN Group.
In the first half year, trainees learn all about the businesses and staff. After that they engage in an intense innovation programme. The second phase of the traineeship focuses on personal excellence and the programme will end with a personal impact assignment in which they show what they have gained in the years throughout the traineeship.