07 December 2018, 09:35 CET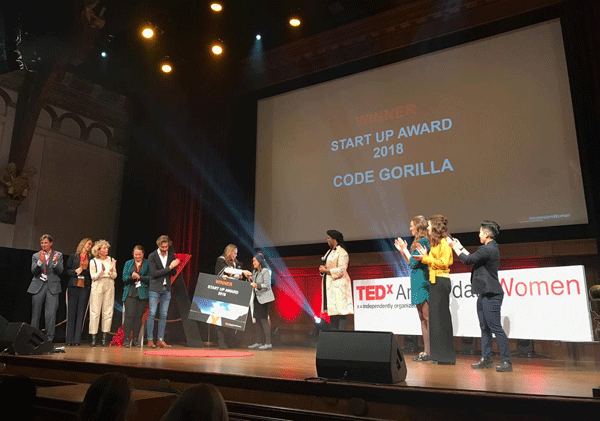 NN is a partner of TEDxAmsterdamWomen for the 2018 event. TED conferences share 'ideas worth spreading' with speakers giving short, 18-minute presentations. The events are organised independently around the globe.
TEDxAmsterdamWomen started in 2010 as an independently organised TED event. This global conference provides a stage for inspiring women. It focuses on the unique way in which women contribute to shaping the future. This year's theme is 'Bridging the Gap'.
Main Event
On 6 December, at the KIT Royal Tropical Institute in Amsterdam, critically acclaimed speakers took the stage to share their TEDx Talks. The talks were thought-provoking and inspiring, and the speakers all shared one thing in common: they are making a difference when it comes to 'Bridging the Gap'.
In the leadup to the main event, a competition for female entrepreneurs was organised with the support of NN Group. The three finalists were on stage at the main event to pitch their company in front of a jury. Dailah Nihot, member of the NN Group Management Board, was part of the Startup Award jury and announced that the Startup Award winner for 2018 was Code Gorilla, which bridges the gap in the tech world.
Dailah: 'At NN, everything we do revolves around people and what matters to them in life and in business. People are at the heart of our company, and I am convinced that a diverse workforce makes us a stronger company. We are very serious about creating an inclusive culture; everybody in our company should feel respected and valued for who they are, no matter what background, age or gender. Change is a certain factor in our lives, also in the financial sector, and the more diverse our workforce is – providing variety in thought, skills and experience – the better equipped we will be for whatever tomorrow brings'.
You can also read the interview with Dailah in which she shares her thoughts on diversity, inclusion, and teaming up with TEDxAmsterdamWomen.