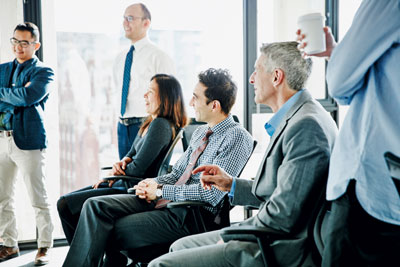 For the 2016 NN Values Week, NN Group adopted the theme 'Open Dialogue'. We believe it is important that we create an environment within the company where all colleagues feel they can openly share and discuss dilemmas and different points of view.
Part of this approach was inviting members of the Management Board to address, in a series of videos, key dilemmas facing NN Group, such as customer service vs cost reduction; entrepreneurship vs risk control; and short term profit vs long term value creation.
Balance in an effective way
The discussion on short term profit vs long term value brought consensus from our Management Board that both need to be balanced in an effective way, alongside the interests of all our stakeholders. NN Group must respond to short term situations that affect the company, the operating environment and our customers while understanding the long term consequences. One such example is in quarterly reporting. Reporting quarterly results requires presenting and explaining how the company has performed financially in the short term from a business point of view, and there is inherent pressure to produce good results. This reflects the challenge of meeting the expectations of analysts and investors in both the short and long term.
In parallel, to build an agile, future-proof organisation, NN Group must always be thinking of long term solutions and long term investments within the businesses, also from the perspectives of all stakeholders. Long term value creation is imperative to long term success. It is NN Group's responsibility to ensure that all stakeholders keep sight of our ultimate longer term value creation objectives.
A company that truly matters
In our aim to be a company that truly matters in the lives of our stakeholders, we keep the customer at the heart of everything we do. We empower our customers by continuously updating our products, innovating our services, providing them tools and intuitive ways to interact with us, and continuously adapting to changing market conditions. This means constant evaluation of the types of products we offer clients and creating profitable situations for our businesses and our customers. Our products must have inherent value to the customer - not necessarily the cheapest on the market, but one that holds value for customers, and has quantifiable, positive impacts on our results.
Responsible Investing
Another area were short term profit vs long term value creation is an important theme, is in our responsible investing approach.
Environment, social and governance (ESG) issues have become an inherent component of NN Group's investment process, and every investment decision is held against these dimensions. This approach encompasses aspects of short and long term profitability, along with the conviction that the responsible, long term investing of our clients' assets is essential for building a future proof organisation for all stakeholders.