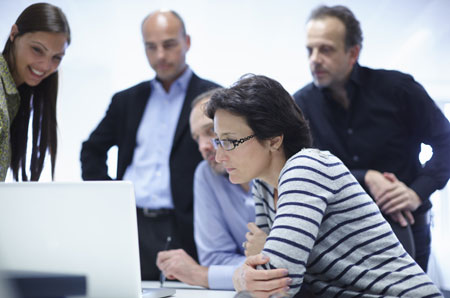 Rapid progress in digitalisation and changes in customer preferences and behaviour continue to transform the financial services industry. To be able to meet changing customer expectations, now and in the future, we need to invest in building new capabilities and new insurance propositions.
Attracting and retaining people with the right mind- and skillset is a critical success factor. To be considered an employer of choice, we work hard to create the right environment: a stimulating and respectful workplace, where people can develop themselves and thrive. An environment that enables them to successfully address the challenges and opportunities of today and tomorrow.
To secure long-term value creation, we are investing in digital transformation across our businesses in order to make our organisation more efficient and agile. We have already started piloting the agile way of working in the Netherlands and will start piloting in Hungary and Poland in April 2018. However, 'Digital transformation is only partly about technology', says Amir Arooni, Chief Information Officer at NN Group. 'It is mostly about leadership, giving trust and taking responsibility. You need to give people the space and freedom to do what they are good at. Give them more autonomy and accountability and trust in their expertise. We all face similar challenges: one of the hardest things to do is to broaden our abilities and not to think in silos. For example, is data security a department that tests software at the end of the process? Or is this the responsibility of the entire development team, so that security is built in: security by design?'
To stimulate the sharing of ideas across our businesses and to celebrate our IT craft, every year an international NN Hackathon is organised, bringing together teams that work non-stop for 24 hours to come up with IT solutions to the challenges of our company. At the same time, we focus on how to improve our day-to-day operations, in order to reach the level of autonomy and accountability we aspire. For example by improving our HR operations and HR service delivery. In 2017, a new global HR information system for employees was introduced, simplifying our HR processes and empowering management to take the lead in HR matters. This is how we shape the work environment we envisage.
Interested in our opportunities or in working at NN? In a traineeship or an internship? Please visit NN Careers.