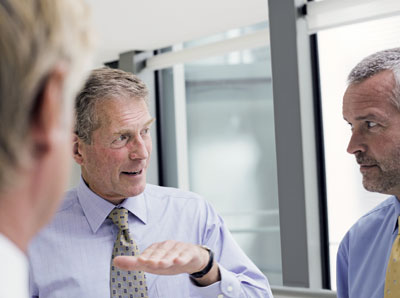 We continue to actively develop our leadership by supporting current and future leaders to live our values, demonstrate personal excellence, have a deep understanding of the markets in which we operate, and enable others to perform at their best. In 2016, over 200 senior NN leaders were trained in practising, listening, and coaching skills in order to unleash the full potential of their teams. This was a key element in supporting the transformation of our performance management approach for our senior leaders, from a traditional one to one that focuses on regular performance check-ins throughout the year and puts more emphasis on employees' motivation, development, and growth.

Three-day senior leadership development programme
Each senior leader also joined a three-day leadership development programme in which they received a bird's-eye-view of an NN-like business, with trade-offs, external situations, and internal events similar to NN's current and projected situations. This provided a valuable forum in which critical leadership behaviours were be practiced, observed, and coached.
Topics included sense making in a dynamic context; understanding how entrepreneurial thinking, innovation and customer centricity translate into managerial decision making; and how to more effectively leverage the collective intelligence. Unleashing the full potential of employees requires a trust-driven organisation culture, rather than a control-driven one. Therefore, creating the right climate and supporting our leaders to improve their leadership skills was at the top of our HR agenda in 2016.
Management Board members took an active interest and joined debrief sessions at the end of each leadership development programme. These sessions focused on how to best use the insights that were gained.