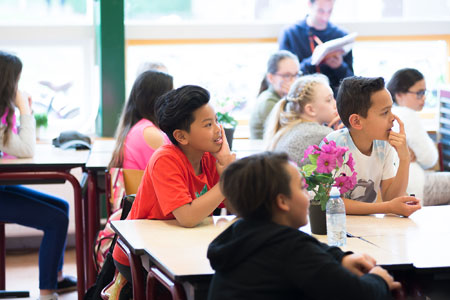 As a financial services company, positively impacting society is important to us. For that reason we focus on sustainable investing and financial education. And we develop and actively participate in financial education initiatives in the countries where we operate.

Participating in Money Week in the Netherlands
One of the financial education projects in which we participate is 'Money Week', an international initiative teaching children about money, risk and insurance. Every year in March, employees and experts from insurance and other financial services companies give guest lectures at primary schools. In 2017, NN employees gave 299 lectures, teaching 7,500 children about money and financial risk scenarios.
In 2017, a digital game introducing the concepts of risks and insurance was introduced as part of these 'Fix your Risk' guest lectures to primary school students. Students learn in a fun, interactive way about types of risks, the chances of these risks occurring and if/how they could insure themselves. They are also asked to reflect on the necessity of having insurance. The guest lectures are meant to trigger a discussion and to encourage students to talk to their parents about these subjects as well.
The Money Week project fits seamlessly with NN Future Matters, our overarching community investment programme, which is focused on improving the financial wellbeing of people. NN contributes resources, its network and expertise. As we believe that good financial behaviour is best learned at a young age, the programme primarily targets young people.
Quote: Paula van Jaarsveld (financial advisor NN Bank): 'I can recommend everyone to host a guest lecture. You can really teach something to children and you hear so many nice stories! It does not take a lot of effort and brings a lot of joy.'
Nationale-Nederlanden Poland launches financial education board game
Nationale-Nederlanden Poland, in partnership with Fundacja Młodzieżowej Przedsiębiorczości, a member of Junior Achievement Worldwide, developed a board game that aims to improve students' financial education.
'Finances – I get it!' teaches teenagers how to manage their finances with a focus on insurance, home deposits and savings, as well as healthy family relations. The game teaches players to recognise the risks associated with financial decisions, such as unnecessary loans, lack of insurance and massive debt.
Players select one of three different profiles: student, family first or successful person. These differ in social-economic attributes. The players then have to analyse their profile in terms of financial needs and capabilities, interests, social relations and risk acceptance. They can set up banking or investment accounts, take out loans or save money. Players receive extra points for volunteer work and family time.
NN Poland produced and distributed 700 board games to teachers in 200 high schools in Poland, reaching more than 5,200 people.