26 April 2017, 14:07 CEST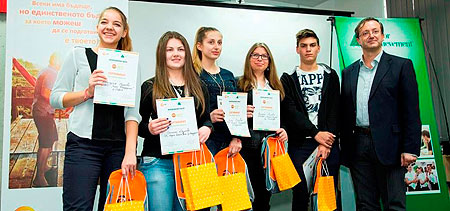 Part of NN Group's goal to be a positive force in the lives of our customers includes taking responsibility for the wellbeing of the wider society. We do this in part through NN Future Matters, NN Group's overarching Community Investment Programme. Future Matters aims to empower young people in the markets where we operate to support them in growing their economic opportunities.

Junior Achievement Europe
Junior Achievement Europe is a non-profit organisation that aims to inspire and prepare young people to succeed in a global economy. NN and JA Europe have a long standing history of collaboration and together create economic opportunities and facilitate social entrepreneurship. NN colleagues participate as volunteers in the programmes of JA Europe, and lately have been very active in connecting young people across Europe to better opportunities for their future.

NN Hellas and Junior Achievement Greece
In late March, in support of Junior Achievement Greece, NN Hellas organised a very successful Job Shadow Day. Nineteen high school students from around Greece visited the NN head office in Athens and 'shadowed' various NN colleagues for the day, learning what it is like to work in a leading insurance and asset management company. They had the chance to attend an informative session about the company, ask questions to our volunteer colleagues and personally meet the Chairman of the Board of Directors and CEO of NN Hellas, Ms Marianna Politopoulou.
Ms Politopoulou referring to this initiative mentioned: 'I feel very proud that NN is putting its know-how into good practice and supports the Greek society and especially the children. The need for vocational guidance of young people is a priority for our country.'

Future Matters in Bulgaria
Also in March, a special event took place in Sofia, Bulgaria, organised by NN and Junior Achievement Bulgaria. This was the 'Innovation Boot Camp', which gathered about 80 students from 20 different cities across Bulgaria to pitch innovative approaches such as job training and mobile and web applications for managing personal finances. The students worked individually or in teams and at the end of the day presented more than 200 different ideas for increasing financial literacy of the Bulgarian population.

In their approach the students had to show creativity, teamwork, and business skills to solve the challenge. Eight volunteers from the team of NN Bulgaria supported the participants in the process of solving the social problem associated with low levels of financial literacy. The ideas that garnished the most accolades were those that focused on increased financial literacy in the workplace; training courses by Economics' students and young financiers; and a theoretical TV show called 'Who wants to be a rich retiree?'.

All proposals showed a great deal of interest and enthusiasm from the students on creating a better awareness around finances, which was well complemented by Financial Literacy Day in Bulgaria hosted by Junior Achievement later that same month.

First time mentors at NN Hungary
At the end of March, NN Hungary organised their first Job Shadow Day in cooperation with Junior Achievement Hungary. The one-day programme offered an opportunity for university students from all over the country to visit colleagues at NN in Budapest, and follow an NN mentor around throughout the day. They could join colleagues from marketing, HR, actuary, and law teams according to their interests, and had the chance to get to know their mentor's work deeply during the day. The day was truly practice-based, as the students attended meetings, participated in an international online conference, and even took part in a movie shoot and tested their reporting skills.

'The Job Shadow Day has great traditions abroad, and luckily there are more and more similar possibilities for youngsters in Hungary too. A day like this is special because together with the theory learned at school, they can get to know their field of interest in practice as well. The first, quick feedbacks are really positive, someone already asked, when he can come back.' – said Ildikó Kovács, programme coordinator of Junior Achievement Hungary.

Throughout all these initiatives, not only do students learn from the expertise and knowledge NN colleagues can offer, the fresh thinking and new ideas of the participants give the NN teams great energy and impulse to keep improving.

Many more Junior Achievement and Future Matters initiatives will be carried out over the year – visit the NN Group in Society page for more information.