16 February 2017, 07:03 CET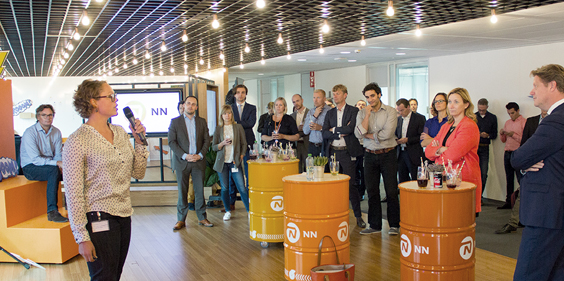 Technological developments such as artificial intelligence and digitisation continue to evolve at an exponential rate. They enable us to make products and services simpler, more transparent, and to better align them with customer needs. In addition, they contribute to optimising distribution by making services accessible anytime and anywhere, while at the same time preserving a personal approach. These, amongst multiple other reasons, are why companies must keep innovating, and why NN Group has made innovation a strategic focus point in 2016. In line with this approach we are also transferring our IT-infrastructure to the cloud - an innovative move towards more efficient operations.

The right mind-set
Innovation is not only about technology; it starts with the right mind-set. So NN employees are encouraged to think innovatively; explore market opportunities, and build new capabilities that support the business. We support internal startups with budgets to bring new ideas to the market and we invest in developing new business models. A recent example is Brickler. This NN Bank startup drastically simplifies the process of buying a home. Its app helps users every step of the way, from finding their dream home to finalising their mortgage online.
NN Blockchain team
In addition we are testing new technologies. For example many people know 'bitcoin' and the technology behind it - blockchain. This technology allows for a decentralised open network on which transactions can take place and be tracked. As this development will no doubt impact the insurance market, we launched the NN Blockchain team. The ambitious team started with developing an asset management blockchain demo and held customer experiments in which the team members acted as live testers.
Series of innovation labs
Following the success of 'Sparklab', our first innovation centre in the Netherlands, we will create similar labs in all business units in the Netherlands and internationally. At least seven innovation labs will be launched in 2017, allowing business units to develop business-specific opportunities. The first new labs are already in place, for example in Rotterdam (the Netherlands), or will soon be opened in Turkey, Hungary, Spain, Japan and Poland. They are supported by NN Group's central knowledge lab, located in our innovation space 'the Bridge' at our headquarters in The Hague.

Partnership with Startupbootcamp
In 2016, we entered into a three-year partnership with Startupbootcamp, focussing on sponsoring the Fintech & Cybersecurity programme. This accelerator helps young, promising companies grow, and supports start-ups as they scale globally. They do this by providing them with direct access to an international network of relevant mentors, partners and investors in their industry.
'The partnership is a good opportunity for us to support young startups in becoming successful fintech companies', says Mariken Tannemaat, Chief Innovation Officer of NN Group. 'Both fintech startups and our company can learn from each other. Together we can help customers improve their financial futures by ensuring that new digital products are personal and relevant to them.'
Through internships, NN employees are given the opportunity to gain insights and hands-on experience in fintech product innovation. A recent example is the kick off of our 'Startupbootcamp for Fintech & Cybersecurity', where over 100 colleagues were deep diving in all essentials of defining a start-up.

Cyber security
Digitalisation has many advantages, and is also accompanied by an increased risk of cybercrime. We want to offer support to customers in their fight against cybercrime through our initiative the Dutch Cyber Collective, an alliance between cyber security suppliers and clients. This independent platform helps small and medium-sized enterprises in the Netherlands combat cybercrime.

In 2016, all our businesses developed innovation initiatives related to our strategy to deliver an excellent customer experience.
In the Netherlands, more products have become available in the NN mobile app, such as pension savings, investment products, personal loan and revolving credit.
NN Bank launched an online mortgage application service for customers to track the progress and status of new mortgage applications. More than 50% of the applicants already use this new service.
The Dutch Non-life business remains focussed on increasing efficiency, for example by sending close to a million documents to the digital mailbox of intermediaries, instead of in hardcopy. Its innovation lab, Sparklab, launched a home protection service, which includes a smart doorbell, advice on burglary prevention, tips and alerts and additional burglary coverage.
NN Greece innovated its health insurance approach. Customers can now buy it online and through a call centre network. In addition the product was tailored for the direct channel and reflects the needs of our customers.
NN Japan launched a one-stop intuitive service platform for agents, which will help strengthen relationships with distributors
Following the example from NN Spain, the NN business units in Poland, Czech Republic and Slovakia launched a paperless sales process.
NN Romania has run a wide process automation project for pension products that included enrolment digitalisation and implementation of a new asset management software that highly improves reporting, trading, investment risk monitoring and net asset value (NAV) calculations
NN Investment Partners continues developing digital solutions for its clients, such as digital factsheets and apps, as well as joint propositions with NN Insurance, for instance via robo-advice. In addition it introduced robotics to enhance straight-through processing and reduce manual errors, especially in the reporting domain, for the purpose of increasing efficiency.