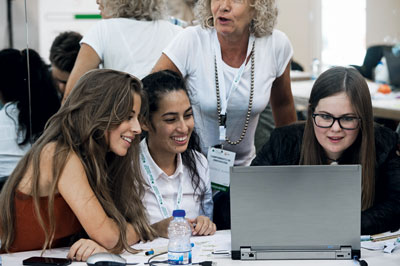 In December 2016, Junior Achievement (JA) Spain and Nationale-Nederlanden Spain organised an Innovation Camp to promote social integration of people with intellectual disabilities. This was together with Aprocor, their foundation partner in this initiative. NN Spain was very enthusiastic about the turnout for the event: between students and Nationale-Nederlanden volunteers 75 people participated, making the event a true success.
Helping young people find their vocation
The challenge the participants were given was to develop initiatives that will facilitate Spanish's young people find their vocation. This was particularly unique event as it brought together young people from different backgrounds and situations, including many participants with intellectual disabilities from the Aprocor foun-dation. This segment of youths is often socially excluded, and this was a chance for everyone to work together in teams to develop creative ideas about their future.

The winner
Many innovative ideas were presented, notably focused on new technologies. The eventual the winner was 'Work with Me', a mobile app which gives young people their first taste of what it is like to work in various. It is meant to help students discover their interests and allows them to upload their CVs in an easy and intuitive way. This brilliant idea won over the jury, as it was fresh, clear and innovative.
The event is an initiative organised by the Junior Achievement Foundation Spain in collaboration with Nationale-Nederlanden Spain, which aims to promote entrepreneurship among young people and promote social inclusion.