28 November 2018, 08:20 CET

NN Czech Republic was awarded second place in the Best Insurance Company competition that has been organised by the leading Czech daily economic newspaper for the past ten years. The Best Insurance Company 2018 awards are based on an analysis of a broad range of data, that provides a detailed picture of individual insurers. The research also makes use of 'mystery testing' (shopping, calls and emails) which evaluate customer service.

'We appreciate this recognition, because the research compares all insurers on the Czech market and evaluates them based on objective data. Today, clients expect simplicity, fast responses and transparency from their insurer. This is why we extended our risk coverage, why we are among the fastest insurers in terms of claim payouts, why we strive to offer our clients high quality products at a reasonable price, and why we communicate to them in an understandable way', says Maurick Schellekens, CEO NN Czech Republic and Slovakia.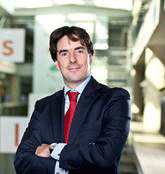 Maurick Schellekens
CEO NN Czech Republic & Slovakia