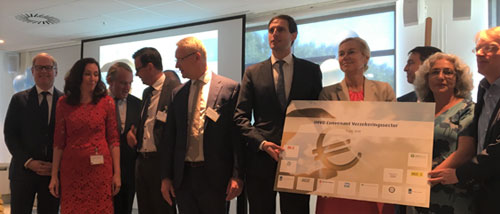 On 5 July 2018, NN Group joined the Dutch insurance sector, six NGOs, the largest union* and the government to sign the International Corporate Social Responsibility (ICSR) covenant for the insurance sector. The ICSR aims to ensure that investments made by Dutch insurers identify and improve environmental, social and governance (ESG) issues.
The Dutch insurance sector invests around EUR 500 billion in companies, governments and countries, and has been operating according to the 'Code for Sustainable Investing' of the Dutch Association for Insurers since 2012. Today's covenant is a broader and more ambitious agreement to contribute to further improvements on ESG themes in the international value chain.
The goal for all parties is to pool their knowledge and experience, learn from each other, and identify ESG risks, as well as initiate actions that can mitigate them. Insurers are expected to have due diligence processes in place to address ESG risks and, where needed, develop, adjust or improve their policies. In addition, parties of the covenant will start a project on a selected theme every year. The first theme is 'energy transition and climate change'. By working together, parties will gain more knowledge and insights in addressing the specific topic and aim to contribute to the UN Sustainable Development Goals.
Lard Friese, CEO NN Group: 'The sector-wide covenant is a meaningful addition to NN Group's own Responsible Investment approach. The sustainable transfer of our planet to next generations requires joint action and responsibility from all parties in the value chain. Working together with stakeholders on long-term solutions is therefore a fundamental aspect of this covenant.'
* The largest trade union (FNV), and NGOs Nature & Environment, World Animal Protection, Amnesty International Nederland, PAX, Oxfam Novib and Save the Children Nederland