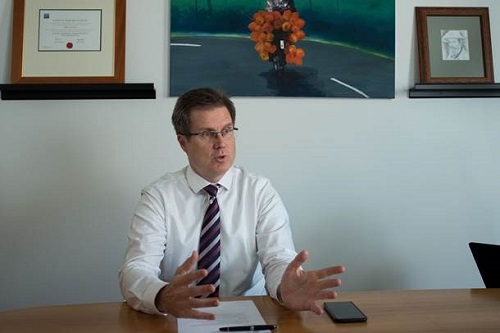 CEO NN Hungary Imre Sztanó
Recently, CEO NN Hungary Imre Sztanó was interviewed by a leading Hungarian financial news site. Please read the English summary below.
Digital sales could decrease the acquisition costs of investment-related life insurance products considerably, yet online sales of these products are still marginal in Hungary. Why are insurance companies not more active in digital channels?
'Due to the confidential nature of the product, in Hungary life insurance is traditionally sold through insurance advisors. However, this does not mean that the sales process cannot be supported digitally. Our sales process is totally paperless, and for the past two years we have been using electronic signatures. Paper-based sales will be a thing of the past in the foreseeable future. Some of the incoming proposals may be automated and may be processed without human intervention. As a result of these proposals, the lead time of over ten days is reduced to below ten minutes in some cases. The first wave of digital transformation has affected our simplest products and processes, which represented 1-2% of our policies in the beginning. But today one-quarter of our sales are the result of an automated underwriting process. I am convinced that it is reasonable to expect that we can get this ratio to 50%, or even 60-70%.'
Why have insurance companies not digitalised the one step in their sales process that carries the most expense?
'The ratio of sales that are completely online is in fact negligible, and, in the near future, we expect it only in the sales of relatively small life insurance policies. However, I believe that combined processes are also valid, where the process starts online and transfers to another channel. We launched our mobile running app last year, where users earn points for the number of kilometres they run, which they can use to get discounts on sports gear. Or, they can exchange their points to buy life insurance designed for runners, with services such as a medical helpline for injuries, and a trainer hotline for race preparation. It is talking about the life event of the individual that will lead to a digital transaction that creates the opportunity to sell life insurance, which won't necessarily take place in the digital channel. But without the initial online interaction, we may never have been able to approach these clients. Another example of our innovation is 'Diablog', an app for people with diabetes, which we designed in collaboration with Vodafone. People with diabetes often pay more for life insurance. This is not necessarily justified, because research shows that if people with diabetes maintain their blood sugar level, their outlook is the same as anyone else's. The app has a blood sugar metre equipped with a bluetooth device, which users can use to share their blood sugar level data with us. If we see that the user regularly checks his or her blood sugar level - and it is normal - we may reduce, or even cancel the extra rate.'
Do robots play a role in NN Hungary's digital strategy?
'They do. We will renew our operations from a technological perspective and in terms of processes. Whether or not we use robots will depend on the specific situation. It is one of our objectives to renew all of our processes by the end of 2019. We started with the transformation of the sales process and the automation of underwriting, and we are broadening the scope of utilising the latter.'
How much are insurance companies affected by the shortage of IT professionals?
'The problem is not specific to one industry. It is difficult to find good IT specialists everywhere. IT experts will only join us if we offer them a career path and create an environment they want to work in. In addition, insurance companies who have been in the market for a long time have legacy IT systems, which very few IT specialists know. An employer today must transform the organisation in a way that enables the company to become truly fast, with an ability to learn, and with a focus on development, which makes the company an attractive and inspiring place to work. This is happening at every level of our organisation right now with the implementation of agile ways of working, which we started as a project and then extended to our entire IT operation. We plan to extend agile ways of working to other parts of the organisation in the coming months. It will substantially contribute to our ability to attract talent.'
Where in the organisation do you think agile methodology may have a role?
'In the areas where we want to make changes and where the focus is not on business as usual. Agile may be relevant in any field that is related to the organisation's strategic objectives. We would also like to see more of the agile attitude in every part of the organisation.'

What technology trends will reshape the landscape in the Hungarian market in the immediate future?
'A major focus for insurance companies is the widespread use of smart devices and the Internet of Things (IoT). We are witnessing an enormous revolution in the world in this respect. Some forecasts predict that already one-third of all households will have intelligent solutions by 2020, and there will be around 50 billion smart devices in the world by 2025, more than six times as many devices as there are people. This obviously creates an opportunity for insurance companies, because the data derived from these smart devices - if used well - could create value to support our everyday lives. Artificial intelligence is another trend that impacts almost every sector, and the life insurance industry is no exception. We will use it in our interactions with clients and in our internal processes. Different self-learning 'bots' will be used in client interactions. In the life insurance sector, self-learning bots will be used in simple client interactions, while personal client relationships will still be in place for more complex and sensitive issues. It will not necessarily involve a face-to-face meeting all the time. Moreover, artificial intelligence will be useful in fraud inspection and in managing service needs. I also believe that blockchain technology will experience a steep growth in the medium term. For the time being, market players are still looking at specific ways in which it can be used.'
Insurtech companies are already actively acquiring market share in the non-life business, but how relevant are they for the life insurance sector?
'Most of the innovation by insurtech companies is in distribution, which is equally true in the life and non-life business. For an external innovator it is easy to create value in client interactions. The majority of insurtech companies - at least three-quarters - do not want to take the place of insurance companies, but they do want to be part of the value chain, thus creating value for clients. This leads to thinking in ecosystems even more.'
What is NN's approach to fintech?
'We want to support all forms of innovation, be it from a startup, our own employees or a corporate partner. We set up innovation lab 'Sparklab', our own incubator, last January to embrace innovative initiatives that aim to improve quality of life. Sparklab helps us not only to find new ideas, but also to fortify the innovation culture within the company. We are looking to share some of the initiatives we support at the beginning of June.'
Are you open to startups who seek an investment from NN?
'This is possible, but we do not expect it, as we do not want to narrow our conversations with the initiators of an idea at the very beginning. Investment is only one of several ways to support a startup. We find that startups are especially grateful for this approach. Sparklab developed a pre-defined mentoring programme in which we provide sales and marketing support to the team, and they can work with colleagues from NN. If necessary, we may even approach our own clients to test an initiative, and we sit down again with the innovator to talk about possible cooperation. Hungary was the second NN Group country to have a Sparklab after the Netherlands, but we now have Sparklabs in six countries. So when someone joins us, they have access to an extensive network.'