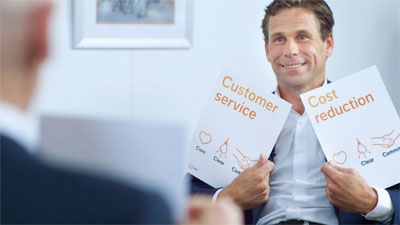 During the NN Values week in 2016, NN Group paid extra attention to how we live our values, with a special focus on 'open dialogue'. This was in recognition that it is important that we all feel confident to openly share and discuss dilemmas and our different points of view. This applies to communicating with all colleagues within NN Group, whether they are peers, managers, or those in leadership positions.

Addressing dilemmas with employees: making a story together
Also within open dialogue context was the concept of addressing dilemmas. To bring more awareness to the issue, colleagues were invited to participate in the 'Making a story together' project on the NN Group intranet. The project followed a fictional story of an employee and her manager, and asked NN Group colleagues for input along the way in dealing with the dilemmas presented. Via a poll, colleagues voted for how the story would proceed, creating the outcome along the way.

Management Board – Open dialogue and dilemmas
In a series of four videos on the theme 'open dialogue', our Management Board members touched on what open dialogue means to them, and what it means for NN. Themes such as asking questions, listening, trust, and open feedback loops are surfaced as common threads amongst our Board members. Throughout the videos, we can see that our Management Board is clearly aware of their role in setting a good example of applying our values in making difficult and carefully considered decisions with regards to dilemmas.

In the open dialogue videos, members of our Management Board also discussed specific dilemmas that NN Group must address and manage in order to create a future-proof company. Covered were short term profits versus long term value creation; customer service versus cost reduction; and entrepreneurship versus risk control.

Short term profits versus long term value creation
With regards to short term profits versus long term value creation, our Board members agreed that NN Group must always be thinking about long term solutions and success of the business from all stakeholder perspectives. However, this must be balanced with the requirement to respond to the short term needs of the markets, customers, and other stakeholders, including the expectations that come with quarterly reporting. All in all, NN Group must keep all stakeholders abreast of how short term activities fulfil the strategy for long term value creation.

Customer service versus cost reduction
When it comes to customers service versus cost reduction, our Board members highlighted the fact that cost reduction comes with the day-to-day agenda of the businesses, whereas customers service is at the heart of everything we do. That said, the approach to providing good customer services inherently includes running a cost-efficient company, the benefits of which are realised for both business operations and our customers.

Entrepreneurship versus risk control
NN Group strives to make prudent decisions regarding capital allocation, which involves balancing the potential of entrepreneurial initiatives with the risk involved. Tackling this issue, Management Board members prioritised entrepreneurship in long term value creation, yet recognised the need to protect the assets that our customers entrust to us. Ultimately, the value of entrepreneurship includes the evaluation of risks to the company, and true growth will depend on the right balance between the two.