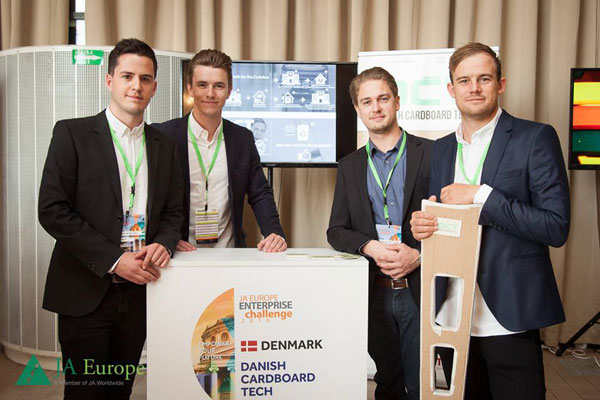 On 6, 7 and 8 July the final of the annual Junior Achievement (JA) Europe Enterprise Challenge took place. During these days, 20 student teams gathered and proposed their social business start-up to an international jury. The teams competed for various awards, amongst which the 'European Signature' NN Innovation Award. The NN Social Innovation Award is awarded to the student start-up which best embraces the values 'care and impact' in their business strategy. The business plan needs to be innovative and have a social impact while remaining realistic in light of today's marketplace.
Two Danish teams, Cardboard Tech and Safety Chair, took home the NN Social Innovation Award.

Social innovation and entrepreneurship
Cardboard Tech proposed the idea to create sustainable and cost efficient cardboard crutches, while Safety Chair developed a non-electronic, easy to use, elevator lift for disabled people.
Both teams presented an idea that is both innovative and socially relevant - NN congratulates the teams with their achievement.
In addition to the NN award, other awards were granted and it was team Save Energy which won the overall award for best enterprise. The team was chosen based on its innovative idea and strong business potential, which offers a solution to energy waste caused by inactive, plugged- in devices. As a solution, the team designed a smart socket which automatically switches the device off if it is not used.

Social impact
The Enterprise Challenge, organised by JA Europe, annually reaches and engages over 14,000 university students, giving them the opportunity to experience what it is like to run a business. The students learn to move from ideas to action and gain valuable insights into entrepreneurship and business operations. As with the Social Innovation Relay, the students get support from business mentors.
In the last 12 years, more than 115,000 students across Europe have participated in the Enterprise Challenge. Supporting European goals of improving youth employability and the start-up ecosystem, the programme fosters key competences to ensure that they are prepared for success after university.

Junior Achievement Europe and NN Future Matters
The Enterprise Challenge is an initiative of Junior Achievement Europe, one of the main NN Future Matters partners. Junior Achievement Europe is a non-profit organisation that aims to inspire and prepare young people to succeed in a global economy. NN and JA Europe have a long standing history of collaboration and together create economic opportunities and facilitate social entrepreneurship.