17 September 2018, 09:53 CEST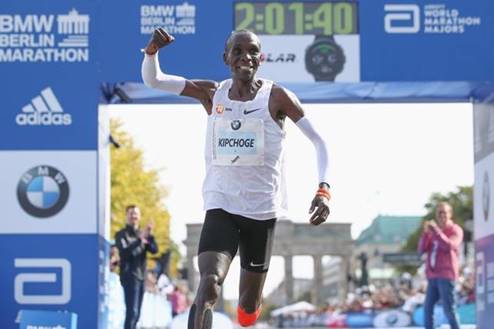 On Sunday 16 September, Eliud Kipchoge won the 2018 Berlin Marathon in a way only he could. Kipchoge set a new world record of 2:01.39, taking an incredible 1 minute and 18 seconds off the previous world record, set by Dennis Kimetto in 2014.
Kipchoge made his intentions known right out of the gate as he took the lead in the first 100 meters and never let up. His world record pace was too fast for his competition and also saw his two pacers drop off early. He was alone in front at the 27 km mark. The signs of a world record were already apparent after a half way time of 1:01:06. Kipchoge managed to hold his pace and continued to race towards the finish line. Shortly after crossing the finish line he said: 'I was prepared to run my own race early, so I wasn't surprised to be alone. I have trained so well for this race and have full trust in the programmes of my coach. I am just so incredibly happy to have finally run the world record as I never stopped having belief in myself.'
Kipchoge has now won 11 out of 12 marathons he raced, including taking an Olympic gold medal in Rio de Janeiro. He is a member of the NN Running Team, which brings together the world's top long-distance runners in the team sponsored by NN Group and Nike. By partnering with the NN Running Team, NN Group is contributing to the further development of running as a sport. Follow the NN Running team's social channels and www.nnrunningteam.com to stay up to date with the athletes and their races.