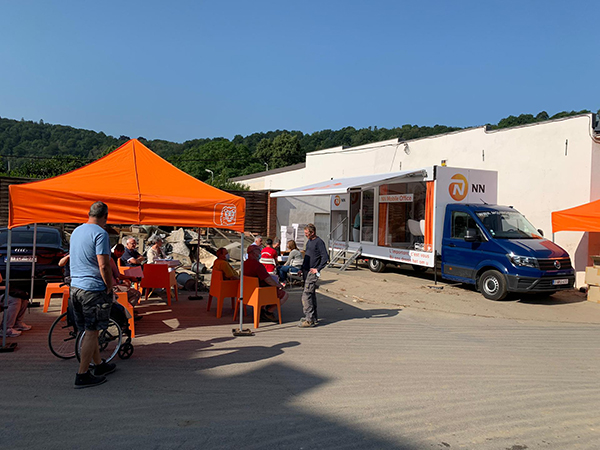 This is a translation of a Dutch press release sent out by Nationale-Nederlanden. The Dutch text is leading.
Since the floods on 14 July in the Netherlands and Belgium, more than 2,000 private individuals and 500 business claims have been reported to Nationale-Nederlanden and its labels OHRA, ABN AMRO Verzekeringen, ING Verzekeren and SNS Verzekeren. Experts are present in the flood area and help customers immediately where possible, with recovery planners making agreements for repair work and alternatives arranged for entrepreneurs to continue their work.
Food trucks, temporary market stalls and home delivery assistance for local shopkeepers and catering entrepreneurs, and temporary housing for private individuals. SNS Verzekeren's assistance to injured customers continues on location and from local branches. The NN Home Claims Manager visits customers at home to assist them on the spot. Claims are settled directly as much as possible by paying out small claims immediately. In the event of major damage, affected customers receive an advance on the claim. For example, SNS Verzekeren was able to help a customer with an advance to have a new central heating boiler installed by a heating engineer within 24 hours.
If no damage is reported, ING Verzekeren, OHRA and ABN AMRO Verzekeringen call customers in the flood zone to ask whether assistance is needed. Recovery planners make agreements with customers and specialists for work on, for example, floors, walls, kitchens, et cetera. Repairers are actively involved in assessing how long it will take for damaged properties to dry out, with this process expected to take a few more weeks. The advice for customers affected by the floods continues to be that they should take photos of the damage and submit them to the insurer.
In addition to non-life insurance clients, NN Bank and Woonnu are actively approaching mortgage advisers of clients in affected areas to ask whether and what assistance is needed.
Nationale-Nederlanden manages various labels. In addition to Nationale-Nederlanden, these are OHRA, ABN AMRO Insurance, ING Insurance and SNS Insurance.