21 January 2020, 14:15 CET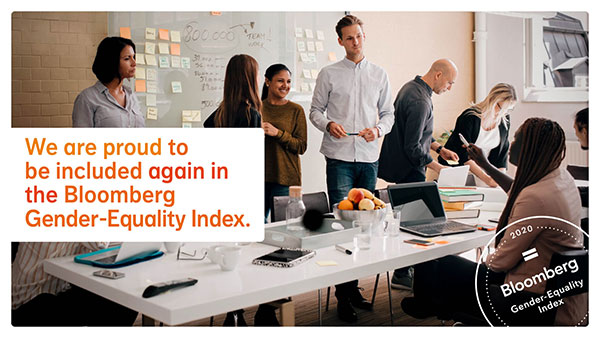 It was announced today that NN Group has been selected for the Bloomberg Gender-Equality Index for the second year in a row. The 2020 index highlights 325 companies that are committed to transparency in workplace gender reporting.
The 2020 index has grown to include 325 companies (up from 230 last year) and expanded its geographic reach to countries such as Russia, the Philippines and Poland. The companies come from 50 industries headquartered across 42 countries and regions. Collectively, these companies have a combined market capitalisation of USD 12 trillion. Companies were ranked on how they promote gender equality across four separate areas: company statistics, policies, community engagement, and products and services.
According to data from the Bloomberg Gender Equality Index:
The industry with the highest average scores is the Materials sector, followed by the Financial sector.
Women are underrepresented at every level of the corporate pipeline. Of the companies in the index, only 6% had female CEOs.
NN Group is committed to promoting female leadership in various ways. We facilitate awareness discussions and trainings. We have set concrete goals: we aim for 50% female candidates in recruitment for management roles and at least 30% females in senior management, and we continue to strive for further improvement in this area. Furthermore, we support initiatives outside our company such as TEDxAmsterdamWomen.
Dailah Nihot, member of the Management Board NN Group: 'Diversity and equal pay are high on our company's agenda, and we are proud to be included again in the Bloomberg Gender-Equality Index. We believe all people should feel respected and valued for who they are, regardless of background, age or gender. Diversity in thinking, skills and experience enables us to be optimally equipped to meet changing customer needs, remain an attractive employer, and adapt to new market circumstances. In 2018 we have conducted research into equal pay across all business units. We identified that discrepancies in equal pay are limited, but that there are certain areas for improvement.'