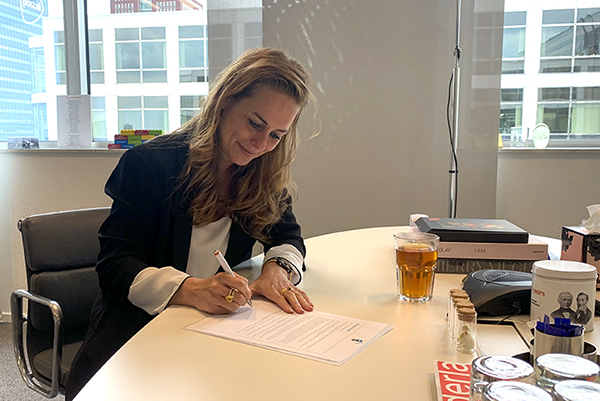 May is European Diversity month. A month dedicated to raising awareness of the importance of diversity and inclusion in our workplaces and in our communities. As part of European Diversity Month, we were proud to sign the Dutch Diversity Charter. Dailah Nihot, member of the NN Group Management Board, signed the charter on behalf of NN.
Dailah Nihot: 'At NN, we are dedicated to diversity & inclusion (D&I) year-round. Our approach to diversity is about embracing everyone. Together we build an environment in which people feel welcome, valued, and respected. A company where our colleagues can bring their whole selves to work, where an inclusive customer experience is the status quo, and where we contribute to the well-being of our communities. We are pleased to be signatories of this charter'.
Alice Odé, coordinator Dutch Diversity Charter: 'We are happy that listed company NN Group is committed to creating an even more diverse and inclusive workplace where everyone can bring their whole selves to work and has equal opportunities. With over 15.000 colleagues and even more customers, we find this ambitious and it adds value.'
Dutch Diversity Charter
The Diversity Charter is a declaration of intent by employers from the public and the private sector. By signing the charter, a company commits to self-formulated goals to promote and increase diversity and inclusion in the workplace.
The first Diversity Charter was set up by a number of large companies in France in 2014. This charter quickly grew into a movement with nearly 4,000 companies and many social organisations involved. Germany and other countries followed the French initiative. The Netherlands was the 15th country in Europe to have a Diversity Charter.
D&I at NN
We have a number of D&I plans for NN. For example, we are focusing on actionable developments of the female talent pool, to help achieve our target to have 40% women in senior positions by 2023. We have a dedicated recruiter to hire new colleagues with a neuro or physical diversity. And this month we are training our D&I Ambassadors so together we can scale D&I efforts across our company.