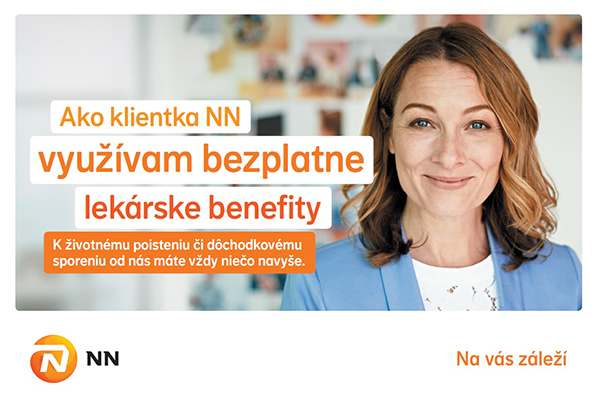 At NN, we help people care for what matters most to them. The past months have convinced many that good health is what matters most in our lives. That is why NN Slovakia offers our customers free premium medical benefits, aimed at preventing disease and protecting health.

As of 1 August 2020, every life insurance and pension customer of NN Slovakia is able to use premium medical benefits for free. The benefits are provided by Diagnose.me, an external partner service. New NN customers are automatically entitled to receive these benefits. The premium medical benefits include three unique healthcare services:
NN customers may raise questions related to their health and treatment to a specialised medical professional by phone, including consultations with doctors and coaches in the fields of mental health and nutrition.

NN customers have priority appointments for MRI examinations, for which Slovak patients usually have to wait for quite a while.

NN customers can consult a different specialist for a second medical opinion for a stated diagnosis (also a Diagnose.me service), which has proven to reduce the risk of an incorrect diagnosis or ineffective treatment. The client may have their diagnosis or treatment verified by an international specialist.
As a result of the current Covid-19 pandemic, many people in Slovakia are suffering from negative post-Covid conditions or respiratory problems. Therefore in 2021, we added an additional premium benefit: a consultation with a pneumologist and online Covid-19 advisory service.
Customers have responded positively to the medical benefits since the launch in August 2020. More than 1,500 customers have already taken advantage of the offered benefits during the first six months, while hundreds are joining each month.
Communication about the premium benefits through NN Slovakia's marketing campaign brought significant positive results on brand consideration ('Would your consider NN's insurance if you are interested in buying one at the moment?') and our Net Promoter Scores:
NN Slovakia's brand consideration increased by 5% after introducing premium medical benefits (up to 19% in Q4 2020, source: NN Group Global Brand Health Monitor).

For life-insurance customers and specifically those who are aware of the new premium benefits, brand consideration rose to 30.6%.

Direct impact of the new benefits is also visible when comparing NPS-r scores: customers who are aware of benefits had an NPS-r score +24, while those who are not aware scored NPS-r +3.
NN Slovakia is positive about the added value of these premium benefits for customers. We trust this will strengthen our relationship and contribute positively to customer satisfaction.