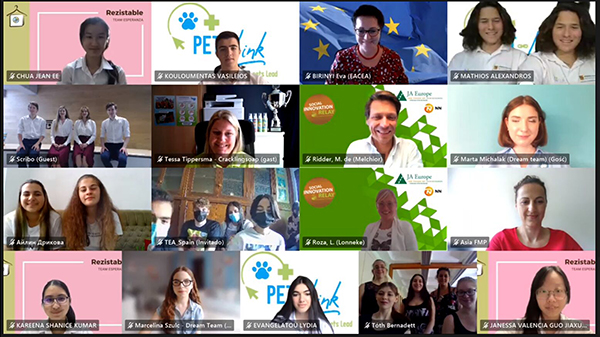 On 22 June 2021, the global final competition of the Social Innovation Relay took place online. We congratulate Scribo markers from Slovakia, Team Esperanza from Singapore, and Pet-link from Greece for their award-winning ideas.
During the final, ten teams of high school students from ten countries presented their socially innovative business models to a professional jury. The jury represented the social investors space (European Venture Philanthropy), government (European Commission), the business sector (NN Group) and the social entrepreneurship space (Crackingsoap/Knetterzeep). We would like to congratulate the winning teams and all participants on their accomplishments.
Scribo Markers' vision is to make every school and company progressively more sustainable through a novel and ecological way of writing on whiteboards. Thanks to their innovative wax composition, these markers never dry out and do not need a plastic cover, thus producing less excess waste.
Rezistable, created by Team Esperanza, is a one-stop guide for sustainable wardrobe management. It allows consumers to make greener purchases and facilitates the decision-making process through behavioural change and positive reinforcement, effectively reducing garment waste and building a community of environmentally conscious individuals.
Pet-Link offers a holistic solution for the entire animal adoption chain. Through a two-way questionnaire, the website matches humans and animals for adoption, suggesting animals with the closest match to a potential foster family. It also created the first blood bank for dogs.
Melchior de Ridder, 2021 jury member and Head of Retail Platforms at the Strategic Transformation Office NN Group, knows all about the importance of innovation and is impressed by the quality of ideas and business models of the students. He explains:
'The future is rooted in social innovation, as organisational legitimacy increasingly depends on its contribution to society. If your concept is not created to explicitly make a positive impact, it won't be sustainable. The way the Social Innovation Relay prepares these innovative youngsters for the current-day world makes a big impact. I strongly encourage all participants in this final to bring their ideas to the market.'
The 2021 final of the Social Innovation Relay is the seventh edition of the programme, which is part of the partnership between NN Group and Junior Achievement. Each year, over 10,000 students participate from ten countries: Bulgaria, Czech Republic, Greece, Hungary, Japan, Poland, Romania, Singapore, Slovakia, and Spain. The innovative programme is designed to enhance the essential skills of secondary school students, emphasising the importance of the link between business and society.
'Solving today's complex social and economic challenges is only possible through increased focus on social innovation and social entrepreneurship. Through the Social Innovation Relay, we are giving the next generation– what we call #Gen_E –the opportunity to pioneer concrete solutions with social impact that can be scaled up and applied for the benefit of the broader economy', concludes Salvatore Nigro, CEO JA Europe.
NN Group is committed to contribute to the well-being of people and the planet. Our collaboration with Junior Achievement is part of our overarching Community Investment programme NN Future Matters.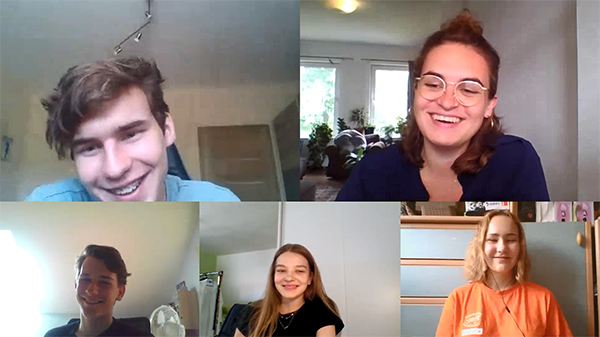 July 27, 2021
An interview with SIR 2021 winning team Scribo
Team Scribo from Slovakia, consisting of Jakub, Miroslava, Gréta and Oszkár, have started an innovative company to create low-waste whiteboard markers that are made from beeswax.
July 20,2021
An interview with SIR 2021 winning team Pet-link
Team Pet-Link, consisting of Alexandros, Konstantinos, Vasilis, and Lydia, came up with an online platform in Greece to match stray dogs with potential owners.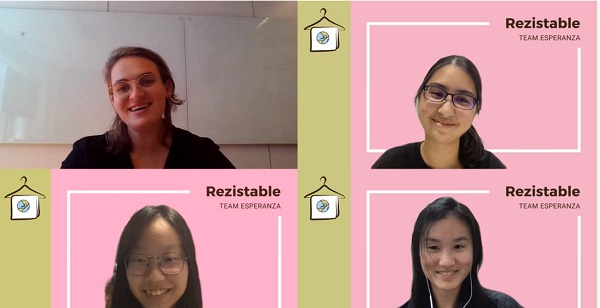 July 13, 2021
An interview with SIR 2021 winning team Esperanza
Team Esperanza, consisting of Jean Ee, Janessa and Kareena, came up with Resiztable, a one-stop-shop for sustainable wardrobe management.