41,000 runners go for personal bests at NN Marathon Rotterdam 2019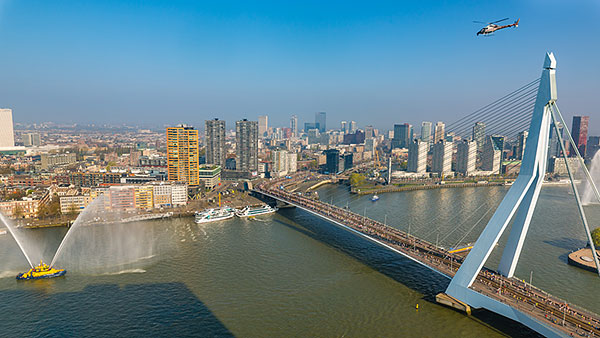 The 39th NN Marathon Rotterdam will take place this coming weekend on Saturday, 6 and Sunday, 7 April. World-class athletes and 41,000 runners from home and abroad will participate. No other marathon in the Netherlands can match the atmosphere of Rotterdam, with more than 950,000 enthusiastic supporters lining the route. This year, about 159 NN employees are taking part in the full marathon, and 263 will be running the 10 km event. The NN Running Team is also well represented. Abdi Nageeye will appear on the starting line at 10:00 CET, on a quest for a new Dutch record. His current record stands at 2:08:16, which he ran at the Amsterdam Marathon in 2017. Josphat Boit will also take part. He was the pacesetter for Eliud Kipchoge during the Berlin Marathon in 2018, where Eliud broke the marathon world record (02:01:39).
NN Group is the proud main sponsor of a number of great apps and initiatives:
Digital Cheering opportunity
All runners can access the Nationale-Nederlanden Digital Cheering opportunity. By clicking on the '#juichmoment' button on the NN Marathon Rotterdam event app, you can take a selfie with your finishing time and share it on social media.
Pacing Team
As a supporter of all runners, we will also have the Nationale-Nederlanden Pacing Team again this year. The team is powered by Runner's World, helping runners to achieve their dream times for the half marathon. The pacemakers all have their own target time, and will stick to their target pace until the finish.
Running Blind
Nationale-Nederlanden is also embracing an initiative called Running Blind. Some 40 visually impaired runners will be accompanied to the finish under the expert guidance of their buddy.
Runner Supporters
Surprise your friends taking part in the NN Marathon Rotterdam with a personal encouragement video. The videos will be shown on four giant screens at the 34 kilometre mark. You have until 6 April to submit your video to www.hardloopsupporter.nl
Smart Medal
With the Smart Medal, we are breathing new life into the centuries-old tradition of receiving a medal after completing a running event. This year, participants in the NN Marathon Rotterdam will receive a Smart Medal when they finish. This medal is fitted with a chip with the runner's personal running story. The Smart Medal allows all runners to relive their experience visually whenever and wherever they wish. And the runners who have received a Runner Supporter video can also watch it in their running story. The Smart Medal app is available in the App Store and Google Play Store.
Run with your heart
More than 300 customers, advisors and employees are running under the leadership of Susan Krumins to raise money for the LINDA.foundation. The funds raised will be used to support families with children who could use a helping hand. Susan Krumins, elite athlete and silver medal winner in the 10 kilometre event at the European Championships in Berlin, is the ambassador of the Hart Loop Challenge. She will also be in the Runners' and Supporters' Zone.
LINDA.foundation
In the Netherlands, one in nine children grow up in poverty. And in Rotterdam, the figure is as high as one in four. This can mean that these children cannot participate in sports, do not have a warm coat and never go on holiday. Because children are never responsible for the financial problems their families experience, but do suffer as a result of them, we want to support them. We are asking people to join us. With our financial support, families in Rotterdam receive a box with gift vouchers so that they can buy healthy food, warm clothes and even a small gift for themselves. The foundation pays all the overheads, which means that every donation goes directly to the families.*
NN Group wishes all the runners the best of luck in reaching their personal goals during the NN Marathon Rotterdam!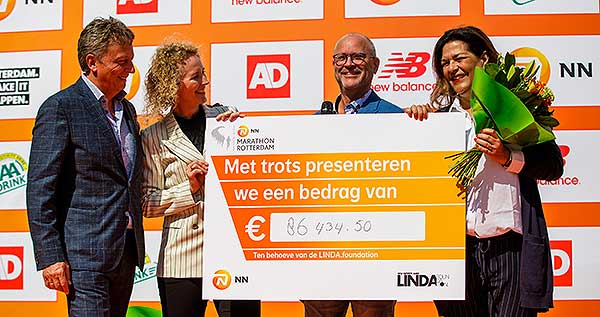 * On Sunday 7 April we proudly we presented a cheque of EUR 86,434.50 to the LINDA.foundation on behalf of all donators to support these families in Rotterdam.