NN colleagues 'Hack for good' at Sustainability hackathon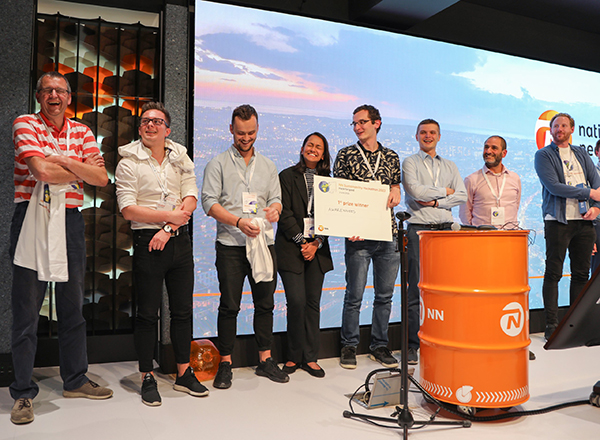 On Friday 3 June, approximately 100 colleagues gathered in The Hague to take part in our NN Sustainability Hackathon, 'Hack for good'. The event challlenged our colleagues to use their IT and innovation skills to develop a solution to an issue facing our society, in support of our commitment to the well-being of people and planet. The 12-hour hackathon was hosted by Head of CIO Office, Barbara Duinker and took place in our sustainable event space, featuring circular materials and plant-based catering.
Real-life challenges
Participating teams were joined by product owners from our business, community investment partners, and coaches and engineers from Deloitte and Capgemini, with whom we organised the event. Challenges covered three broad themes: carbon footprint awareness, health and well-being, and support for disadvantaged people in the community.
In between work sessions, colleagues were kept refreshed and motivated with healthy vegan snacks, smoothie bikes, a yoga session and an inspirational speaker: Laure Wessemius-Chibrac, Director of the Netherlands Advisory Board on Impact Investing.
Gamifying your impact
The winning team designed a tool to raise awareness of colleagues' individual environmental impact. The team developed a website containing mockup data and a prototype for an API to obtain live data. The tool aims to show individuals' daily carbon footprint and compare that with others, to gamify on a personal and team level. By receiving tips to improve your 'score', colleagues can lower their emissions level and stay motivated to improve further. The winners will now receive support to bring their idea to life.
The jury comprised of NN Group CIO Rob Visser, NN Group Head of Corporate Citizenship Fleur Hudig, Deloitte's Wouter van Walbeek and Capgemini's Alexander Eerdmans.
Fleur Hudig said of the event: 'It was inspiring to see such dedication on display as colleagues developed and presented their solutions to real-life challenges in our society. The winning idea on measuring colleagues' daily carbon footprint demonstrates how our colleagues' expertise can contribute to raising more awareness, driving change from within our organisation, and helping to minimise our negative impact on society.'