NN employees volunteer in 'Your community matters week'
Summary
Last month, NN employees joined our 'Your community matters week', the NN volunteer week dedicated to contributing to local communities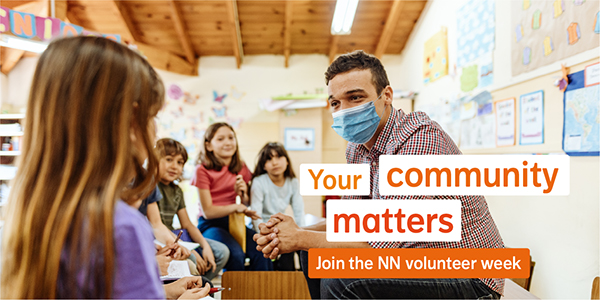 Last month, NN employees joined our 'Your community matters week', the NN volunteer week dedicated to contributing to local communities. Between 21 and 25 June, 1,599 volunteers, around 10% of NN Group's total workforce, dedicated their time and energy for society.
Volunteer activities take place year-round in association with our community partners, and with 'Your community matters week' we give extra attention to our role in society. As part of the week, NN employees contributed 2,510 volunteer hours in 44 activities to contribute to the well-being of people in our communities.
Following appropriate measures related to Covid-19, many employees picked up rubbish in their own neighbourhoods and joined our first NN-wide Charity Run. In the Netherlands, employees read to the elderly and provided mentoring support to students. In Poland, employees accompanied seniors for Nordic walking and for a concert with an Elvis impersonator, and in Spain, employees planted trees and helped people to reskill with digital skills. These are just some of the activities organised in ten of our markets.
Dailah Nihot, member of the NN Group Management Board: 'At NN, being a good corporate citizen means we want to use our resources, expertise and reach to help society, and the results are testament to our efforts to make a positive impact. We thank all colleagues for their involvement.'
Robin Remmerswaal from NN Group participated in a networking session: 'I volunteered for the networking session which was organised by JINC. My colleagues and I helped high school students who have grown up in an environment with less chances discover what they are good at and how they can present themselves. It was a really nice and informative experience!'
About Your community matters week
'Your community matters week' is an NN Group initiative that underscores our commitment to invest up to 1% of our annual operating result in our communities – through hours of volunteering and cash donations. During the week, ten NN business units organised locally relevant volunteering activities that align to our strategic pillars.