NN Group sponsors world's first interactive digital look and smell tour
Summary
NN Group sponsors world's first interactive digital look and smell tour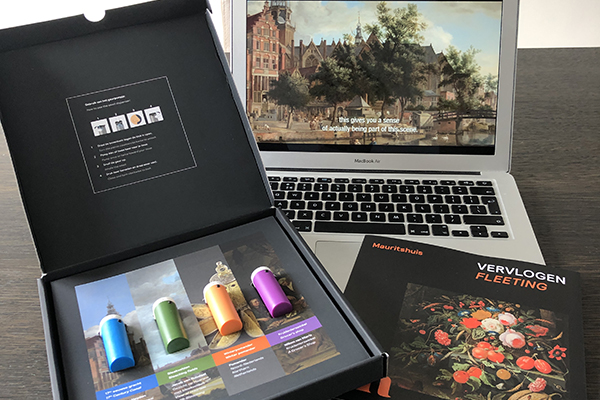 In partnership with NN Group, the Mauritshuis has developed a special fragrance box that allows people to experience an art work's 'scent' while watching an online tour from the comfort of their home. This world-first interactive digital look and smell tour was produced for the exhibition 'Fleeting – Scents in Colour'.
Joël Broekaert, culinary journalist, and Ariane van Suchtelen, curator of the exhibition, take visitors back to the scents of the 17th century. What did the canals of Amsterdam smell like? What was the relationship between smell, health and personal hygiene? And does the experience of the past differ from today?
Fragrance box
In the exhibition, several artworks are complemented by a scent pump so visitors can both smell and see the scents in the paintings. With the museum currently closed due to Covid-19 restrictions, the Mauritshuis specially developed the fragrance box to make this experience possible at home. Ideal for at home, but also in the classroom, care home and hospital ward. The fragrance box contains four scent pumps which allow visitors to smell the scents as they appear in the tour.
Fleur Hudig, Head of Corporate Citizenship NN Group: 'As a partner and main sponsor of the Mauritshuis, we want to be there for them, particularly now when they are closed and can welcome no visitors. We are doing this by jointly investing in new possibilities to keep the collections accessible and by offering unique experiences. The Mauritshuis has previously organised livestreamed guided tours that could be enjoyed from home. With the addition of the fragrance box, the Mauritshuis is bringing an additional dimension to the at home experience.'
Joël Broekaert is a Dutch culinary journalist who writes about food and eating: 'Smell is an extremely underrated part of our sensory perception and experience. Without your nose, you can't taste a thing! Eating is uninteresting if you can't smell as well. So being able to experience art in this way, not only with my eyes, but also with my nose, is an incredibly special experience.'
The exclusive fragrance box can be ordered via www.mauritshuis.nl/en/fleeting and costs € 20 (plus delivery costs). The tour is offered in Dutch with English subtitles.