NN Running Team launches second virtual MA RA TH ON
Summary
NN Running Team launches second virtual MA RA TH ON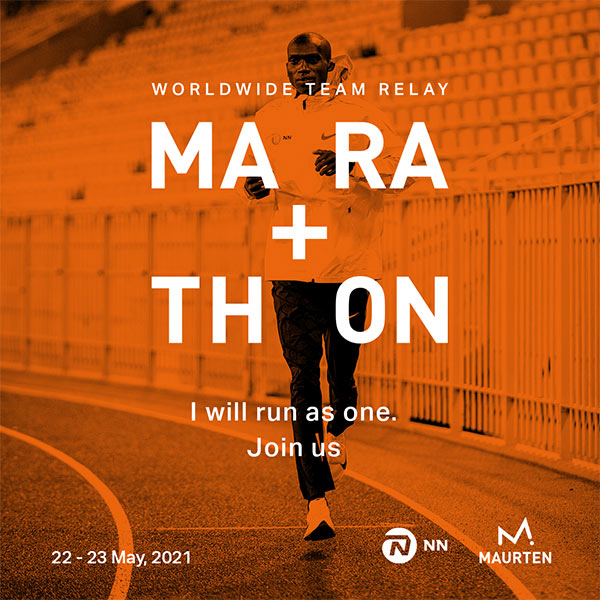 The NN Running Team, supported by NN Group and Maurten, is organising MA RA TH ON for the second time on 22 and 23 May. Last year 106,000 runners registered for this virtual event, and together they ran a combined 28 laps around the world. With many running events still postponed, and the desire for runners to participate in an event is high, the NN Running Team believes there is no better time to run together again. As supporter of all runners, NN Group is happy to make this second event possible.
Virtual team relay marathon
To join the marathon, people from all over the world form teams of four and run together virtually the marathon distance of just over 42 kilometres. Each team member covers 10.5 kilometres, and as a team they run the full marathon. The participants run solo safely in their own location while still being part of a team and competing as one.
Ten teams will have the chance to run alongside an NN Running Team athlete, who are assigned at random to a participating team. These teams could virtually run together with Eliud Kipchoge, Kenenisa Bekele, Geoffrey Kamworor or Joshua Cheptegei.
#RUNASONE
Remco Barbier, Head of Branding at NN Group: 'After last year's success it goes without saying that we are happy to be part of MA RA TH ON again. It will be great to see so many runners from all over the world team up and together run a full marathon. At NN we are supporter of all runners and with this event everything that makes running such a great sport comes together, especially in these challenging times.'
Jos Hermens, NN Running Team Director: 'It is fantastic that we are organising this event for the second time. Again, in a great collaboration with our title sponsor NN Group and Maurten. Two weeks ago, we organised the NN Mission Marathon, an elite only race. This time we organise an event for everyone because we all miss the excitement of the big mass events. This event will bring our athletes and fans together, back on the start line. In these difficult times we like to challenge people to stay active and to go for a run.'
How to participate
Participants are able to run their 10.5 km section of the race between 12:01am on Saturday 22 May and until 11:59pm on Sunday 23 May (local times) in consideration of the participants' geography
The competition is free to enter for those aged 18 and above with separate divisions for men, women and mixed teams
Participating NN Running Team athletes will be randomly assigned to their teams
Participants must have a Strava account to join
Follow the NN Running Team and Maurten social channels for updates, information and behind the scenes footage: @NNRunningTeam @Maurten_Official
For more information, to register and to track the leaderboards and how to register please visit NN Running Team website.