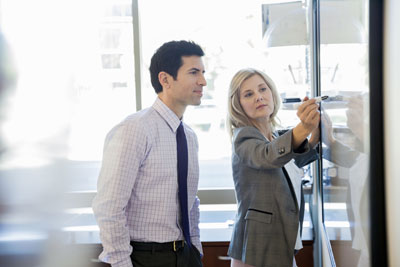 Through our Yearly Engagement Survey (YES) our employees can express their opinion on different topics, including on how we are living our values and acting with integrity. In 2016, 86% of NN Group colleagues completing the survey, meaning that the results obtained provide robust and reliable data on which to base future actions.

Despite all the changes our company faced in 2016, overall we are pleased to report our engagement levels continued to be high. Impressive survey results were seen in areas that NN Group considers of highest priority, such as our care for our customers and regarding how we live our values, care, clear, commit.

More about the overall NN Group results
NN Group's key strengths are, according to the survey:
Colleagues are positive towards the team in which they work, reflecting high standards of integrity and continuous performance improvement
Colleagues are very positive about the care, attention and responsiveness we show towards our customers
Colleagues have a positive attitude towards their manager; high favourable scores for how managers listen to concerns, live our values, express clear expectations and encourage integrity
NN Group's key areas of improvement are, according to the survey, the need to continue our efforts in creating an environment that truly drives innovation, agility and process efficiency.
Thoughts from the Management Board
'The NN Group Management Board was grateful for the efforts shown by everyone within NN in making their voices heard. In doing so, NN Group recognises a collective effort in our ongoing commitment to make NN an even better place to work.