06 February 2020, 08:55 CET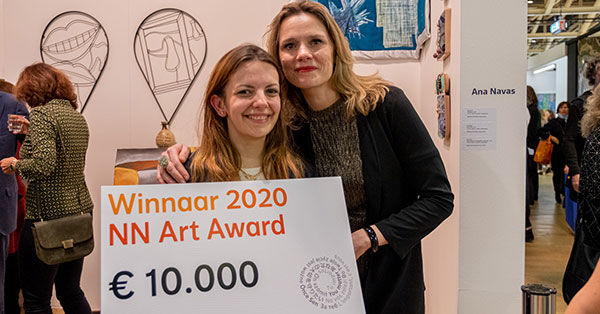 From left to right: Ana Navas and Curator NN Group Art Collection Els Drummen
On 5 February the NN Art Award was presented for the fourth time during the Art Rotterdam art fair. The art prize was presented to Ana Navas and consists of an incentive prize of EUR 10,000. This was announced the winner during the official opening of Art Rotterdam.
Dailah: 'With the NN Art Award we want to give exceptional talent a stage. The diversity, quality and creativity of artists who receive training in the Netherlands is impressive and inspiring. We are proud that we can support these artists, and we will acquire works from the nominees for our corporate art collection.'
Ana: 'I am very happy that I have won this prize. The amount will help me develop a conceptual project. I also want to do research into materials that imitate other materials, and produce new exhibitions.'
Submissions and criteria
Art work of a total of 36 artists were submitted by galleries represented at the fair. The jury selected four nominees:
Natalia Jordanova (Structura Gallery)
Ana Navas (tegenboschvanvreden)
Noor Nuyten (Upstream Gallery)
Koen Taselaar (Cokkie Snoei)
Jury 2020
The jury changes annually. This year's jury consists of Sofía Hernández Chong Cuy (director Witte de With Center for Contemporary Art, Rotterdam), Sietske van Zanten (Director LAM Museum), Katja Mater (visual artist), Jan Pieter Ekker (chief art at Het Parool), and Els Drummen (curator NN Group Art Collection). The most important criteria that the jury has taken into account are that the artist has completed their an art education at a Dutch academy, and they show high-quality work, and an authentic and innovative visual language with new perspectives.
Art fair Art Rotterdam
Art Rotterdam takes place from 6 to 9 February in Rotterdam. Art Rotterdam is celebrating its 21 year anniversary. For four days, the Van Nellefabriek forms the backdrop for the latest developments in the visual arts. NN Group has been a partner of the art fair since 2017.
Cultural sponsorship
NN Group wants to make a positive contribution to society, by helping people secure their financial futures and by being socially involved. We have a long history in the field of cultural sponsorship, with the aim of making art and culture accessible to a wide audience. For example, NN Group invests in cultural collaboration projects with Dutch museums and artists. This is expressed through the support of a diverse number of exhibitions and through the purchase of works of art for the company's own collection. NN Group is, among other things, a corporate partner of the Nederlands Fotomuseum in Rotterdam and of the Mauritshuis in The Hague.
NN Group is an international financial services company, active in 18 countries, with a strong presence in a number of European countries and Japan. With all its employees, the Group provides retirement services, pensions, insurance, investments and banking to approximately 17 million customers. NN Group includes Nationale-Nederlanden, NN, NN Investment Partners, ABN AMRO Insurance, Movir, AZL, BeFrank and OHRA. NN Group is listed on Euronext Amsterdam (NN).

Art Rotterdam is a renowned and surprisingly varied art fair that is experiencing its 21st edition this year. Location is again the Van Nelle factory. In this historical context, Art Rotterdam 2020 shows the latest developments in the visual arts from Thursday 6 to Sunday 9 February. The focus on young art, the variety of the different sections, the connection with the city of Rotterdam and the fascinating location give Art Rotterdam a unique appearance. For more and more art lovers, Art Rotterdam is the attractive alternative within the international field of art fairs and attracts more visitors from home and abroad every year.

Certain of the statements contained herein are not historical facts, including, without limitation, certain statements made of future expectations and other forward-looking statements that are based on management's current views and assumptions and involve known and unknown risks and uncertainties that could cause actual results, performance or events to differ materially from those expressed or implied in such statements. Actual results, performance or events may differ materially from those in such statements due to, without limitation: (1) changes in general economic conditions, in particular economic conditions in NN Group's core markets, (2) changes in performance of financial markets, including developing markets, (3) consequences of a potential (partial) break-up of the euro, (4) changes in the availability of, and costs associated with, sources of liquidity as well as conditions in the credit markets generally, (5) the frequency and severity of insured loss events, (6) changes affecting mortality and morbidity levels and trends, (7) changes affecting persistency levels, (8) changes affecting interest rate levels, (9) changes affecting currency exchange rates, (10) changes in investor, customer and policyholder behaviour, (11) changes in general competitive factors, (12) changes in laws and regulations, (13) changes in the policies of governments and/or regulatory authorities, (14) conclusions with regard to accounting assumptions and methodologies, (15) changes in ownership that could affect the future availability to us of net operating loss, net capital and built-in loss carry forwards, (16) changes in credit and financial strength ratings, (17) NN Group's ability to achieve projected operational synergies and (18) the other risks and uncertainties contained in recent public disclosures made by NN Group.

Any forward-looking statements made by or on behalf of NN Group speak only as of the date they are made, and, NN Group assumes no obligation to publicly update or revise any forward-looking statements, whether as a result of new information or for any other reason.

This document does not constitute an offer to sell, or a solicitation of an offer to buy any securities.