06 April 2017, 12:00 CEST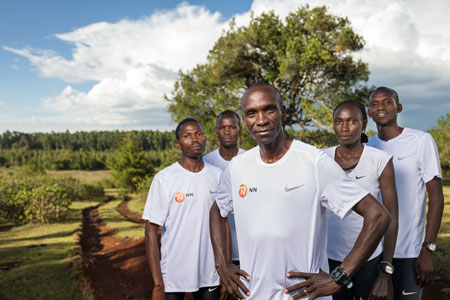 NN Group and Global Sports Communication have launched a unique running partnership. Today, they are presenting the NN Running Team, the first professional running team in the world, bringing a new dimension to running.
The Team
The NN Running Team brings together the world's top long-distance runners in a partnership with the world's best athletes. Reigning Olympic champion, Eliud Kipchoge, world record holder, world champion and Olympic champion, Kenenisa Bekele, Chicago Marathon 2016 winner Florence Kiplagat and the Dutch athlete, Abdi Nageeye, are just some of the 60 athletes represented in the team sponsored by NN Group and Nike. The NN Running Team will make its first appearance as a team at the NN Marathon in Rotterdam on 9 April 2017.
Putting running on professional footing
Together, the NN Running Team will take part in 150 competitions worldwide, with the aim of putting the sport on more professional and innovative footing. 'By working with sponsors such as NN Group and Nike, we can offer our athletes the best possible support. And by bringing together a team of top athletes, young African and European talent, all the athletes can tap into the knowledge and experience that have propelled our world and Olympic champions to the top of their sport', said Jos Hermens, former top athlete. As director of Global Sports Communication, he has been responsible for supporting many international top athletes for more than 30 years.
NN and running
Since 2015, NN Group has been actively involved in various running events targeted at helping people achieve their sporting goals. NN is now the proud sponsor of dozens of running events in Europe and Japan, including the NN Marathon Rotterdam, the Naha Marathon in Japan, and the Nationale-Nederlanden San Silvestre Vallencana in Madrid.
By sponsoring the NN Running Team, NN Group is contributing to the further development of running as a sport. 'We believe that the performances of the athletes in the NN Running Team can also motivate others', says Remco Barbier, NN Group's head of Branding. 'We are also hoping that the knowledge of the team in relation to training schedules, nutrition and clothing, for example, will inspire recreational runners, and that this will contribute to improving their own performances', continues Barbier.
More information is available on the online platform www.nnrunningteam.com where you can track the performances of all runners in the team throughout the year and find the press kit www.nnrunningteam.com/en/contact.


NN Group is an international insurance and asset management company, active in 18 countries, with a strong presence in a number of European countries and Japan. With around 11,500 employees the group offers retirement services, insurance, investments and banking to more than 15 million customers. NN Group includes Nationale-Nederlanden, NN and NN Investment Partners. NN Group is listed on Euronext Amsterdam (NN).

Global Sports Communication is a sports management and sports marketing agency specialising in athletics. The business has developed over a period of 30 years into the largest athletics management agency in the world, representing top athletes such as Haile Gebrselassie, Kenenisa Bekele, Eliud Kipchoge, Catherine Ibarguen and Sifan Hassan. GSC organises various international top track and road events in the Netherlands and abroad.

Certain of the statements contained herein are not historical facts, including, without limitation, certain statements made of future expectations and other forward-looking statements that are based on management's current views and assumptions and involve known and unknown risks and uncertainties that could cause actual results, performance or events to differ materially from those expressed or implied in such statements. Actual results, performance or events may differ materially from those in such statements due to, without limitation: (1) changes in general economic conditions, in particular economic conditions in NN Group's core markets, (2) changes in performance of financial markets, including developing markets, (3) consequences of a potential (partial) break-up of the euro, (4) changes in the availability of, and costs associated with, sources of liquidity as well as conditions in the credit markets generally, (5) the frequency and severity of insured loss events, (6) changes affecting mortality and morbidity levels and trends, (7) changes affecting persistency levels, (8) changes affecting interest rate levels, (9) changes affecting currency exchange rates, (10) changes in investor, customer and policyholder behaviour, (11) changes in general competitive factors, (12) changes in laws and regulations, (13) changes in the policies of governments and/or regulatory authorities, (14) conclusions with regard to accounting assumptions and methodologies, (15) changes in ownership that could affect the future availability to us of net operating loss, net capital and built-in loss carry forwards, (16) changes in credit and financial strength ratings, (17) NN Group's ability to achieve projected operational synergies and (18) the other risks and uncertainties contained in recent public disclosures made by NN Group.

Any forward-looking statements made by or on behalf of NN Group speak only as of the date they are made, and, NN Group assumes no obligation to publicly update or revise any forward-looking statements, whether as a result of new information or for any other reason.

This document does not constitute an offer to sell, or a solicitation of an offer to buy any securities.