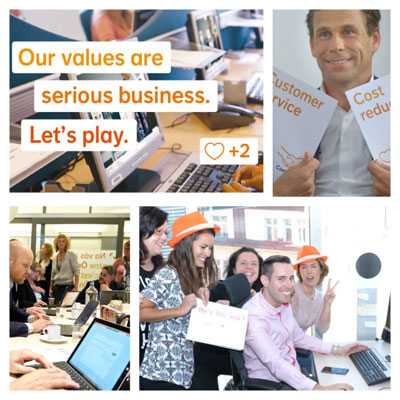 At NN, our values 'care, clear, commit' are the guiding principles by which we fulfil our purpose of helping people secure their financial futures. As part of our 'Living our Values' programme, to better engage colleagues in our values, we invite them to join the NN Values challenge. This is a 'serious game' which makes learning about our values fun, while at the same time sparking some friendly competition. The NN Values challenge led up to our annual NN Values week, which in 2016 took place from 10 - 14 October.
During this week, we paid extra attention to how we live our values, with a special focus on 'open dialogue'. We feel it is of utmost importance that everyone at NN Group feels confident in openly sharing and discussing dilemmas and different points of view. We released a series of interviews with our Management Board members in which they explain what open dialogue means to them. During the NN Values week, many activities took place across our business units with a focus on this theme.
For example in Belgium, employees received compliments cards so that they could give sincere compliments related to care, clear or commit to colleagues of choice. They could also could stick 'post-it' notes on large plates with a care, clear, commit-message. Belgian colleagues created special signs on which they wrote what they care about, both privately and professionally. The following day, they wrote down how to improve being clear and transparent in their daily behaviour and communication. Lastly, they shared their most important commitments.
In the Czech Republic, a Customer Service Week was organised. At the event many colleagues visited the local Customer Contact Centre, where for a few hours they could see how the NN operators work. They listened to real calls from customers and had their own calls with clients, with the support of an experienced operator. During this event, employees could see how our values are implemented in daily practice.
In the Netherlands, the different businesses joint forces and organised 30 different activities attended by 450 colleagues. The Values week included a variety of events such as 'listen with empathy workshops', breakfast sessions with board members, sessions on 'navigating your moral compass' and 'care talks'.
The 2016 NN Values week offered a good moment to reflect on what our values mean in our day to day jobs. In 2017, we will organise the thirds NN Values week
Read more about our values