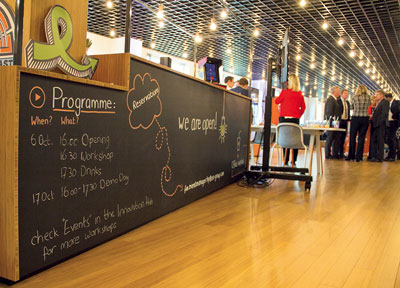 The Bridge at NN's head office encourages creativity and innovation
NN wants to accelerate growth, which includes focusing on innovation and agility. To contribute to these goals, employees at NN's office in The Hague now have the opportunity to work in a more innovative and entrepreneurial way. A space joining the two parts of the NN headquarters in The Hague has been renovated into what is now known as 'The Bridge', a creative location (in both style and purpose) meant to inspire, connect, and spark an innovative mindset.
Many innovative initiatives are already being developed by NN employees in and outside the Netherlands. Several teams are working outside the regular offices in different locations, such as innovation centres in The Hague and Rotterdam.
And now The Bridge has become an in-house space for innovation; a practical space in NN's head office where everyone is encouraged and empowered to unleash their creativity and contribute to an innovation mind-set within our company.
The location of The Bridge was not randomly chosen: being the centre of the Haagse Poort building, it connects colleagues of several NN businesses and the head office. It is the perfect intersection at which to start building a more innovative company.
With the help of a designer specialised in creating innovative workspaces, The Bridge has become an open, light space with flexible furniture, up-to-date technology, and many walls and surfaces to write on. Working at The Bridge gives employees the opportunity to learn more about outside-in trends and customer insights; to co-create and test prototypes with colleagues, suppliers and customers; and to be inspired by others who work there.
The objective of The Bridge is to provide the physical location in which key innovation themes can be created and presented via mini-academy sessions, workshops and demos. Furthermore, 'innovation works-in-progress' from across NN businesses can be displayed and presented. Employees will have the opportunity to tap their own creativity and intuition; collaborate with other colleagues, and learn from start-ups; build ideas and prototypes with others, and connect to customers and other prospective users.
Since its opening, The Bridge has hosted a variety of events. These include the 'Startup Thursday' sessions in which different startup companies were on hand to offer their advice and experience; workshops on such subjects as 'clients of the future' and business models; and Trend Lunches that highlighted some of the most impactful trends in innovation hitting today's marketplaces.