12 April 2017, 11:57 CEST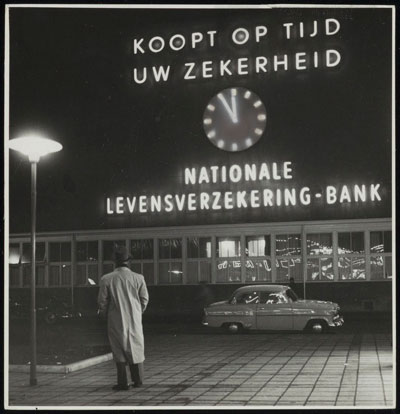 This photograph was taken by of Cas van Os in 1956 at the Lijnbaan in Rotterdam, the famous shopping street which became icon of reconstruction in Rotterdam after the Second World War. The subject reflects are laxed impression, and with the shiny car the advertisement portrays a hopeful new future. The city is ready for a new episode, with no war and no fear. This image is offset with urgency in the messages, as the slogan says 'Buy your security on time' and the time is set to five-to-midnight, which gives a dramatic signal.
The insurance company, the Nationale Levensverzekering-Bank (originating in Rotterdam), had more slogans with similar meaning, all used to inspire confidence and phrased in a modern way at the time.
The photographer Cas van Os (Rotterdam,1907-1989) worked for the Nationale since the 1940s, and the staff magazine was very happy with his expertise. He made many photographic reports, in and outside the company offices. One example was his project of the staff and cleaners in the head office in Rotterdam in the 1960s. His photos are documentary, but always with a human touch. Many of his photos are in the photo collection of NN Group.