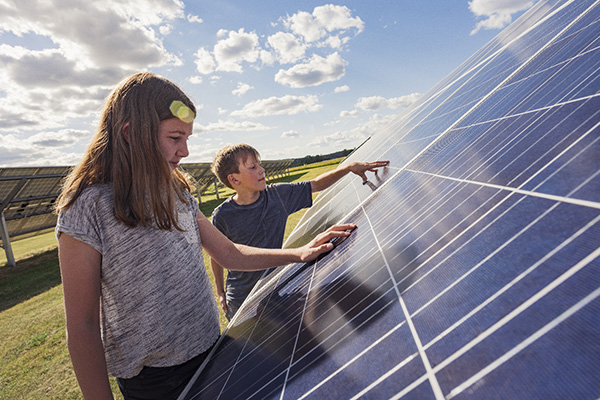 NN Group today announces that it will launch the Dutch Climate Action Fund. The fund is a partnership with DIF Capital Partners. NN is a cornerstone investor with an initial commitment of EUR 125 million, and DIF Capital Partners will manage the fund.
The Dutch Climate Action Fund will invest in projects and companies active in climate change solutions that envisage to support the Dutch energy transition. The fund is rising to this challenge by targeting investments that aim to support the reduction of carbon emissions in the Netherlands. These investments are targeted to be pioneers in their markets as well as investments in more traditional clean energy sectors. The fund may invest in energy efficiency, e-mobility, energy storage and hydrogen, as well as in renewable energy generation such as onshore wind and solar farms. Renewable energy generation is expected to be a catalyst for electrification of industries, buildings and transportation, driving a significant part of emission reduction and therefore investment needs. The Dutch Climate Action Fund focuses on equity investments of up to EUR 25 million per investment.
Specifically, the fund's investments target to support and promote the United Nations Sustainable Development Goals number 7 (affordable and clean energy), number 11 (sustainable cities and communities) as well as number 13 (climate action). Actual contribution to these SDGs, as well as reporting against the progress of achieving selected KPIs in relation to these SDGs, are targeted to be assessed for each investment opportunity. The investments in the fund are part of NN Group's target to invest an additional amount of EUR 6 billion in climate solutions by 2030.
Jelle van der Giessen, Chief Investment Officer of NN Group: 'Climate change is one of the biggest challenges of today; weather extremes due to climate change in the form of heat waves, drought and storms are only increasing. In addition to decarbonising our investment portfolio, NN Group has a clear commitment to double our investments in climate solutions by 2030. Companies and households may be able to reduce their carbon footprint, but still need energy. As long as this energy is derived from fossil fuels, we as a society will face difficulties achieving net-zero. Our investments in the Dutch Climate Action Fund will support and accelerate the Dutch energy transition, essential to ultimately reach net-zero.'
Allard Ruijs, Partner of DIF Capital Partners: 'We are honored to partner with NN Group on this Dutch initiative to further drive the energy transition and the reduction of carbon emissions in our home market through a focused investment strategy and leveraging on DIF's long standing track record in the global energy infrastructure markets.'
Please see here for more information on NN Group's climate action approach and policy to transition to a low carbon economy.
NN Group is an international financial services company, active in 11 countries, with a strong presence in a number of European countries and Japan. With all its employees, the Group provides retirement services, pensions, insurance, banking and investments to approximately 18 million customers. NN Group includes Nationale-Nederlanden, NN, ABN AMRO Insurance, Movir, AZL, BeFrank, OHRA and Woonnu. NN Group is listed on Euronext Amsterdam (NN).

DIF Capital Partners is a leading global independent investment manager, with ca. EUR 11 billion in assets under management across ten closed-end infrastructure funds and several co-investment vehicles. DIF invests in infrastructure companies and assets located primarily in Europe, the Americas, and Australia through two complementary strategies:

DIF CIF funds, of which DIF CIF III is the latest vintage, target equity investments in small to mid-sized core-plus infrastructure companies in the telecom, energy transition, and transportation sectors.

Traditional DIF funds, of which DIF Infrastructure VI is the latest vintage, target core infrastructure equity investments with long-term contracted or regulated income streams including public-private partnerships, concessions, utilities, and energy transition projects (incl. renewable energy).

DIF Capital Partners has a team of over 190 professionals, based in eleven offices located in Amsterdam (Schiphol), Frankfurt, Helsinki, London, Luxembourg, Madrid, New York, Paris, Santiago, Sydney and Toronto. For more information please visit www.dif.eu.

All figures in this document are unaudited. Small differences are possible in the tables due to rounding. Certain of the statements contained herein are not historical facts, including, without limitation, certain statements made of future expectations and other forward-looking statements that are based on management's current views and assumptions and involve known and unknown risks and uncertainties that could cause actual results, performance or events to differ materially from those expressed or implied in such statements. Actual results, performance or events may differ materially from those in such statements due to, without limitation: (1) changes in general economic conditions, in particular economic conditions in NN Group's core markets, (2) the effects of the Covid-19 pandemic and related response measures, including lockdowns and travel restrictions, on economic conditions in countries in which NN Group operates, on NN Group's business and operations and on NN Group's employees, customers and counterparties (3) changes in performance of financial markets, including developing markets, (4) consequences of a potential (partial) break-up of the euro or European Union countries leaving the European Union, (5) changes in the availability of, and costs associated with, sources of liquidity as well as conditions in the credit markets generally, (6) the frequency and severity of insured loss events, (7) changes affecting mortality and morbidity levels and trends, (8) changes affecting persistency levels, (9) changes affecting interest rate levels, (10) changes affecting currency exchange rates, (11) changes in investor, customer and policyholder behaviour, (12) changes in general competitive factors, (13) changes in laws and regulations and the interpretation and application thereof, (14) changes in the policies and actions of governments and/or regulatory authorities, (15) conclusions with regard to accounting assumptions and methodologies, (16) changes in ownership that could affect the future availability to NN Group of net operating loss, net capital and built-in loss carry forwards, (17) changes in credit and financial strength ratings, (18) NN Group's ability to achieve projected operational synergies, (19) catastrophes and terrorist-related events, (20) adverse developments in legal and other proceedings and (21) the other risks and uncertainties contained in recent public disclosures made by NN Group.

Any forward-looking statements made by or on behalf of NN Group speak only as of the date they are made, and, NN Group assumes no obligation to publicly update or revise any forward-looking statements, whether as a result of new information or for any other reason.

This document does not constitute an offer to sell, or a solicitation of an offer to buy, any securities.