NN Group reports 1H21 results
Summary
Strong financial and commercial performance across NN Group for the first half of 2021
Strong financial and commercial performance across NN Group for the first half of 2021
On track to deliver on financial targets
Operating capital generation increased to EUR 780 million from EUR 543 million in the first half of 2020, mainly reflecting strong business performance at all segments
Operating result increased to EUR 1,119 million from EUR 926 million in the first half of 2020, with almost all segments reporting higher results
Net result of EUR 1,414 million compared with EUR 587 million in the first half of 2020
Continued commercial momentum; sustained high employee engagement; improved ESG-integrated AuM
Value of new business of EUR 242 million, up 98% on the first half of 2020, mainly driven by improved sales at Japan Life and Insurance Europe
NN Bank originated EUR 4.4 billion of new mortgages in the first six months; Net third-party inflows at NN IP of almost EUR 4 billion
Assets under Management DC business increased to EUR 27.4 billion from EUR 24.6 billion at 31 December 2020
Implementing initiatives to enhance customer satisfaction, with 3 of our insurance businesses scoring an above market average Net Promotor Score
Employee engagement remains high with an overall score of 7.8, progressing with hybrid way of working
ESG-integrated Assets under Management up at 75%; continued progress implementing net-zero ambition
Solid balance sheet; delivering on our commitment to attractive capital returns to shareholders
NN Group Solvency II ratio of 209% versus 210% at 31 December 2020, mainly reflecting capital flows to shareholders and a reduction of the UFR, partly offset by operating capital generation and market variance
Cash capital position at the holding increased to EUR 1,533 million in the first half 2021, mainly reflecting remittances from subsidiaries, partly offset by capital flows to shareholders
2021 interim dividend of EUR 0.93 per ordinary share1) or approximately EUR 287 million
Statement of David Knibbe, CEO
'We are reporting strong financial and commercial results for the first half of 2021 and we are making good progress in implementing our strategy to achieve resilient and growing long-term capital generation. We saw higher sales at Japan Life and Insurance Europe, with markets recovering as Covid-19 restrictions are easing and agents and brokers are moving sales online. The impact of the pandemic has also highlighted protection shortfalls that affect people's livelihoods and health. Higher awareness of risk and vulnerability leads to an increased demand for such protection products. This has supported the increase in value of new business that almost doubled compared with the first six months in 2020. Our other units also continued to show commercial momentum. Our asset manager NN Investment Partners (NN IP) attracted new mandates, with net third-party inflows of almost EUR 4 billion. In addition, we saw a further growth of NN IP's ESG-integrated, sustainable and impact strategies in the first half of the year. The Dutch housing market is still buoyant, which is driving the high volume of mortgage origination. In the first six months of the year, almost 17 thousand new mortgages for a total amount of EUR 4.4 billion were originated by NN Bank. At the same time, we are optimising our performance in Life and Non-life, for example by shifting to higher-yielding assets. The integration of VIVAT Non-life is well on track. In the first six months we migrated 90% of the EUR 800 million of VIVAT premiums to NN systems.
Our base case is organic growth, however we regularly assess our portfolio with the aim to strengthen market positions. In this context, the acquisition of MetLife's businesses in Poland and Greece, which we announced in July, will reinforce our position in life and pensions in Poland and create the market leading life insurance company in Greece. We also reached an agreement to acquire a 70% stake in Heinenoord, one of the largest service providers and brokers in the Netherlands, through which we will secure our leading Non-life position by responding to the ongoing broker service consolidation. In February, we divested our company in Bulgaria, as the new owner is better positioned to further develop this pension and life business. For our asset manager NN IP, we are currently reviewing options with the aim to broaden its platform and accelerate growth. We are making good progress with this strategic review and we will provide an update when appropriate.
Covid-19 continues to impact the lives of many and uncertainties remain. Since the outbreak, NN has put the health and well-being of customers and employees first and has adapted to the changing environment. Customer processes have been digitised and our offices are being reshaped for hybrid ways of working. Our purpose is to help people care for what matters most to them. In recent months, we put this into practice by supporting our customers, for example on the cancellation policies of their travel insurance. Also following the devastating floods in July, we opened mobile shops in the affected regions in the Netherlands and Belgium so customers could reach us more easily. Based on current claims estimates, the financial impact of the floods on our results is expected to be around EUR 70 million (pre-tax, net of external reinsurance) in the second half of the year.
As part of our commitment to contribute to the well-being of people and the planet, we are significantly upscaling our contribution to our communities. In the first half of 2021, we initiated new partnerships and successful volunteering activities, for example the 'Your community matters' week in which 1,599 colleagues participated. We continued implementing our net-zero ambition for NN's proprietary investment portfolio by developing and rolling out our Paris Alignment strategy for different asset classes. To underline our efforts we joined the new net-zero commitment platforms established by the Institutional Investors Group on Climate Change. With regards to our own operational carbon footprint we set a science-based target to reduce it by at least 70% by 2030. We will continue to offset the remainder of our emissions.'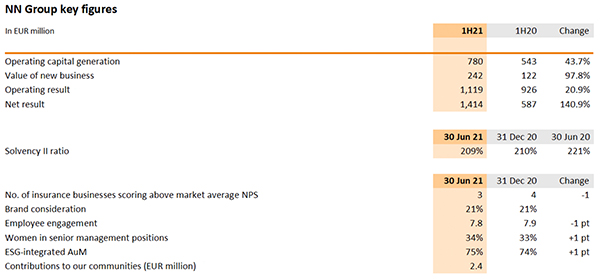 'NN Group's operating result in the first half of the year was up 21% compared with the same period in 2020, with almost all business units reporting higher results. For example, in Netherlands Non-life we are pleased to see that the measures we have been taking to improve the results are starting to bear fruit, with the overall combined ratio improving to 92% for the first half of 2021. However the Non-life results are volatile by nature and we will continue to implement improvements to strengthen the results of this business.
Our capital position remains strong, with a Solvency II ratio of 209% at 30 June 2021. The increase of our operating capital generation mainly reflects improved underwriting results in Netherlands Non-life, the shift to higher-yielding assets, new business at Insurance Europe and the positive contribution from Banking following the change in methodology in 2021. Our resilient solvency position and capital generation support attractive returns to our shareholders, and we have announced today that we will pay an interim dividend of EUR 0.93 per ordinary share.
With our strategic commitments as a guiding principle, we will continue to work towards achieving both our financial and non-financial targets, while maintaining our strong position and remaining relevant to our stakeholders.'
(download the full Press Release)
Delivering on our strategic commitments
At NN, we help people care for what matters most to them. Our purpose reflects the kind of company we aspire to be: a company that delivers long-term value for all stakeholders. Our ambition is to be an industry leader, known for our customer engagement, talented people, and contribution to society. To realise our ambition, we identified five strategic commitments, with all parts of our business contributing.
Customers and distribution – New platforms and partnerships enhance customer engagement
In the first half of 2021, we intensified our efforts to enhance customer engagement, by being an active participant in platforms on key themes such as Self-care and Carefree Retirement. We launched our first self-care platform in Turkey 'NN Iyi Hayat' and are currently running pilots in other markets. NN Iyi Hayat addresses Turkish families and individuals' needs to access high-quality healthcare professionals and services by combining telehealth services, tips and a dashboard for medical information storage.
Nationale-Nederlanden partnered with Indie Campers, Europe's largest motorhome rental platform, to offer insurance tailored to a traveller's specific trip. The insurance solution covers, for example, damage, theft and roadside assistance when not covered by the primary insurance, in the case of renting the campervan to another party. Furthermore, Nationale-Nederlanden partnered with VVCR Prodrive, a leading player in road safety solutions, to further grow our concept Hello Mobility. Hello Mobility offers entrepreneurs insights into their vehicle fleet, which combined with coaching, can improve driving behaviour and expands our services from risk protection to risk prevention.
HCS, Nationale-Nederlanden's label that focuses on occupational health and safety services in the Netherlands, acquired Qare. As a result, we are able to meet a growing need for innovative solutions in the field of risk and case management for absenteeism and disability. HCS also launched Veerkracht a new vitality platform and app that promotes mental, physical and social well-being. The app is developed for employees, but also offers employers insights enabling them to meet their workforce's needs. Veerkracht is an example of our efforts to shift our focus from cure and treatment to prevention.
NN in Japan has reached the milestone of 100,000 SME customers. We have been present in the Japanese market for 35 years, dedicated to helping SME business continuity through our products and services.
Products and services – New protection products and responsible investment funds
In our efforts to meet our customers' evolving needs, we launched several protection and living benefit products. In Japan, we launched an income protection insurance which safeguards SME CEOs and their employees against the risk of not being able to work due to sudden illness or accident, and supports business continuity. In Spain, we introduced a payment protection product offered to our ING customers who have a personal loan, protecting them against loss of income. In Hungary, we won a tender with Raiffeisen Bank allowing for the launch of our first payment protection insurance product in the country, which supports the bank's personal loan customers if they cannot pay their debt. We also partnered with Bank360, one of the largest retail loan aggregators in Hungary, to promote an income protection insurance.
NN Bank renewed its retail app improving customer experience and providing the basis for future functionality. The new app is easy to use and allows customers to view their products and manage their finances. Its data-driven architecture allows for targeted customer contact.
In July, Nationale-Nederlanden announced the buyout of the pension obligations and assets amounting to around EUR 125 million of Stichting Pensioenfonds Henkel Nederland B.V. This agreement relates to approximately 750 (former) employees of Henkel.
NN IP added the first sovereign bond fund to its green bond offering which aims at a positive environmental impact through the projects it finances. Five years after launching the first green bond fund, NN IP has reached the EUR 4 billion milestone in assets under management in green bond strategies. NN IP also launched its first fully-adaptive equity fund which invests in US stocks, using an adaptive process to capture investment opportunities as they emerge. In June, NN IP announced it will increase its focus on responsible investing in Asia. As part of this, it will establish a responsible investing hub in Singapore and further develop its product offering in ESG-integrated Asian solutions.
People and organisation – Well on our way with preparations for the hybrid way of working
In our efforts to realise our ambition with regard to our people agenda, we are measuring our employee engagement in our (semi) annual employee survey. For the first half of 2021, our score remained high at 7.8 (from 7.9 in the same period in 2020). The survey results show that colleagues work well together remotely, although being able to connect in person continues to be important for people's well-being. Therefore, we are preparing for the mix of working from home and in the office when the Covid-19 restrictions are lifted.
At NN, our approach to diversity is about embracing everyone. Together we build an environment in which people feel welcome, valued, and respected. As part of European Diversity Month in May, we were proud to sign the Dutch Diversity Charter which shows our commitment to promote and increase diversity and inclusion in our workplace. NN Slovakia also became an ambassador of the Slovakian Diversity Charter and alongside other companies, actively supports a diverse work environment based on openness, fairness, and trust.
As a step to support flexibility and a healthy work-life balance, NN Slovakia has been the first company in the country to introduce a four-day working week scheme. The scheme was launched as a pilot in the beginning of the year and so far 20% of employees have joined stating that they experience a positive impact on their well-being.
Testament to our efforts is the certification of our Insurance International business units as Top Employer 2021. For the third year in a row, our International businesses received this recognition which stands for excellence in HR practices and distinctive work conditions. Japan has been certified for the second time.
Financial strength – Maintaining a strong balance sheet
We aim to maintain a strong balance sheet and generate attractive and growing capital returns for shareholders. NN Group has a strong capital position with a Solvency II ratio at 209% and cash capital at the holding of EUR 1.5 billion at 30 June 2021. The leverage position is comfortable with a financial leverage ratio of 22.2% and NN Group has been awarded financial strength credit ratings from S&P (A, stable) and an upgrade from Fitch (AA-, stable).
NN Bank published its newly established Green Bond Framework in June 2021. NN Bank aims at issuing Green Bonds under the Framework in order to finance and/or refinance mortgages for energy efficient residential properties in the Netherlands. The Green Bond Framework supports NN Bank's ambition to help clients make their homes more sustainable, and it stimulates further disclosure and transparency of energy efficiency data.
Society – Continued climate change efforts and successful volunteer week to support local communities
During the first half of 2021, we rolled out our Paris Alignment strategy for government bonds and developed a similar strategy for equity and corporate bonds. Furthermore, NN IP recently became a supporter of the Partnership for Biodiversity Accounting Financials (PFAB), a partnership of financial institutions that work together to explore opportunities and challenges on the impact of biodiversity associated with their loans and investments. 75% of NN IP's assets under management are now ESG-integrated.
At NN, being a good corporate citizen means we want to put our resources, expertise, and networks to use to maximise positive change in society In June 2021, NN Group organised 'Your community matters week', engaging colleagues to volunteer with our community partners. Overall, NN Group organised 44 volunteering activities in 10 countries and 1,599 colleagues dedicated their time and energy to support inclusive economies, healthy and safe living, and a sustainable planet. Our activities reached 1,558 people and supported 36 charities. During the volunteer week, we organised our first NN Charity Run, where 811 colleagues across our markets ran a total of 4,985 km together, raising almost EUR 40,000 for local charities.
In Greece, in collaboration with the South Aegean Region, we provide, for free, the Dr Online health services to more than 10,000 inhabitants of the 15 islands in the Regional Unit of the Dodecanese, also including the smallest and most remote ones. Dr Online teleconference application allows users to receive medical recommendations via video call or chat and can schedule doctors' appointments.
Nationale-Nederlanden and BeFrank, which have a leading position in the Dutch group pensions market have introduced a number of initiatives and partnerships to raise awareness on the new Pension Agreement. Nationale-Nederlanden launched Pension TV, a live streaming television that informs Dutch citizens about their pension schemes and keeps them updated on developments. Nationale-Nederlanden and AZL joined a partnership with stakeholders in the Dutch pension field to make information about pensions more accessible and to help prepare Dutch citizens for their future financial well-being.
(download the full Press Release)
Press call
David Knibbe (CEO), Delfin Rueda (CFO) and Bernhard Kaufmann (CRO) will host a press call to discuss the 1H21 results at 07:45 am CET on Thursday 12 August 2021. Journalists can join the press call at +31 20 531 5863 (NL).
Analyst and investor call
David Knibbe (CEO) and Delfin Rueda (CFO) will host an analyst and investor conference call to discuss the 1H21 results at 10:30 am CET on Thursday 12 August 2021. Members of the investment community can follow the live audio webcast on NN Group - Investors (nn-group.com).
Analysts can participate in the Q&A by registering according to the following instructions:
Register for the conference call online at link
After registration, you will receive a confirmation e-mail containing the dial-in number, entry code and personal ID code
Use these details to dial in to the conference call
Financial calendar
Publication 2H21 results: 17 February 2022
Publication 1H22 results: 11 August 2022
AGM: 19 May 2022
Additional information on www.nn-group.com
NN Group 1H21 Financial Supplement, NN Group 1H21 Analyst Presentation, NN Group Company Profile and NN Group ESG presentation
NN Group 30 June 2021 Condensed consolidated interim financial information
Photos of NN Group executives, buildings and events are available for download at Flickr
NN Group is an international financial services company, active in 19 countries, with a strong presence in a number of European countries and Japan. With all its employees, the Group provides retirement services, pensions, insurance, investments and banking to approximately 18 million customers. NN Group includes Nationale-Nederlanden, NN, NN Investment Partners, ABN AMRO Insurance, Movir, AZL, BeFrank and OHRA. NN Group is listed on Euronext Amsterdam (NN).
NN Group profile
Elements of this press release contain or may contain information about NN Group N.V. within the meaning of Article 7(1) to (4) of EU Regulation No 596/ 2014 (Market Abuse Regulation).
NN Group's Consolidated Annual Accounts are prepared in accordance with International Financial Reporting Standards as adopted by the European Union ("IFRS-EU") and with Part 9 of Book 2 of the Dutch Civil Code. In preparing the financial information in this document, the same accounting principles are applied as in the NN Group N.V. Condensed consolidated interim financial information for the period ended 30 June 2021. All figures in this document are unaudited. Small differences are possible in the tables due to rounding. Certain of the statements contained herein are not historical facts, including, without limitation, certain statements made of future expectations and other forward-looking statements that are based on management's current views and assumptions and involve known and unknown risks and uncertainties that could cause actual results, performance or events to differ materially from those expressed or implied in such statements. Actual results, performance or events may differ materially from those in such statements due to, without limitation: (1) changes in general economic conditions, in particular economic conditions in NN Group's core markets, (2) the effects of the Covid-19 pandemic and related response measures, including lockdowns and travel restrictions, on economic conditions in countries in which NN Group operates, on NN Group's business and operations and on NN Group's employees, customers and counterparties (3) changes in performance of financial markets, including developing markets, (4) consequences of a potential (partial) break-up of the euro or European Union countries leaving the European Union, (5) changes in the availability of, and costs associated with, sources of liquidity as well as conditions in the credit markets generally, (6) the frequency and severity of insured loss events, (7) changes affecting mortality and morbidity levels and trends, (8) changes affecting persistency levels, (9) changes affecting interest rate levels, (10) changes affecting currency exchange rates, (11) changes in investor, customer and policyholder behaviour, (12) changes in general competitive factors, (13) changes in laws and regulations and the interpretation and application thereof, (14) changes in the policies and actions of governments and/or regulatory authorities, (15) conclusions with regard to accounting assumptions and methodologies, (16) changes in ownership that could affect the future availability to NN Group of net operating loss, net capital and built-in loss carry forwards, (17) changes in credit and financial strength ratings, (18) NN Group's ability to achieve projected operational synergies, (19) catastrophes and terrorist-related events, (20) adverse developments in legal and other proceedings and (21) the other risks and uncertainties contained in recent public disclosures made by NN Group.
Any forward-looking statements made by or on behalf of NN Group speak only as of the date they are made, and, NN Group assumes no obligation to publicly update or revise any forward-looking statements, whether as a result of new information or for any other reason.
This document does not constitute an offer to sell, or a solicitation of an offer to buy, any securities.
Important legal information