NN supports the LGBTI+ community at Rotterdam Pride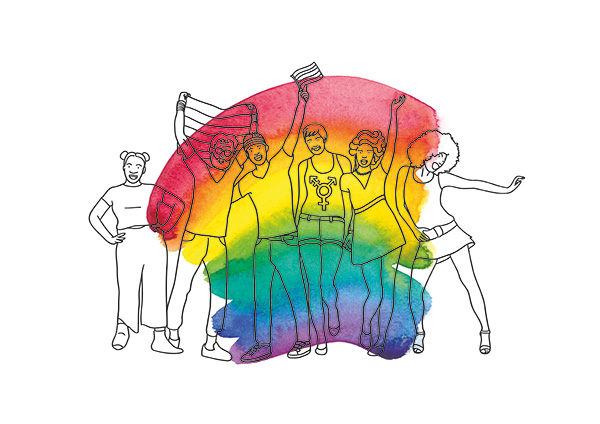 NN is a proud sponsor of Rotterdam Pride. For this year's pride event, taking place from 18 to 27 September, NN and Rotterdam Pride are supporting an initiative that will give the city of Rotterdam a burst of colour.
Due to COVID-19, a number of Pride Rotterdam's usual festivities will not take place this year. That is why NN and Rotterdam Pride are offering the people of Rotterdam an inclusion flag. Together with a number of businesses that will also be flying the flag, they can support Pride in an unprecedented year. NN volunteers will hand out the flags over Pride weekend.
Rotterdam Pride is an impactful changemaker for cultural and sexual diversity. With this year's theme of 'Dare to', Rotterdam Pride wants to encourage the LGBTI+ community to be proud, and to stand up for who they are and who they love.
Diversity at NN
At NN, we want to include all people, no matter their background, identity, sexual orientation, religion, ability, and cognitive diversity. Together we create an environment where people are appreciated and respected for who they are, and where they can grow and reach their full potential. We believe that working together and diversity of thinking leads to better results. It's not only the right thing to do, it has value for our employees, our customers and our business. Our sponsorship of Rotterdam Pride is one of the ways we reflect our ambitions in this area.
Dailah Nihot, member of the NN Group Management Board: 'People are at the heart of our company. At NN, everything we do revolves around people and what matters to them. I am convinced that a diverse workforce makes us a stronger company. We are very conscious about creating an inclusive culture; everybody in our company should feel respected and valued for who they are and feel welcome to bring their whole selves to work. Change is a certain factor in our lives, also in the financial sector, and the more diverse our workforce is – providing variety in thought, skills and experience – the better equipped we will be for whatever tomorrow brings.'
The Rotterdam Pride Foundation
The Rotterdam Pride Foundation is the organiser of the annual Rotterdam Pride, for the LGBTI+ community. The organisation strives for emancipation and social and legal equality for people within the LGBTI+ community regardless of body colour, body shape or mental/physical health.