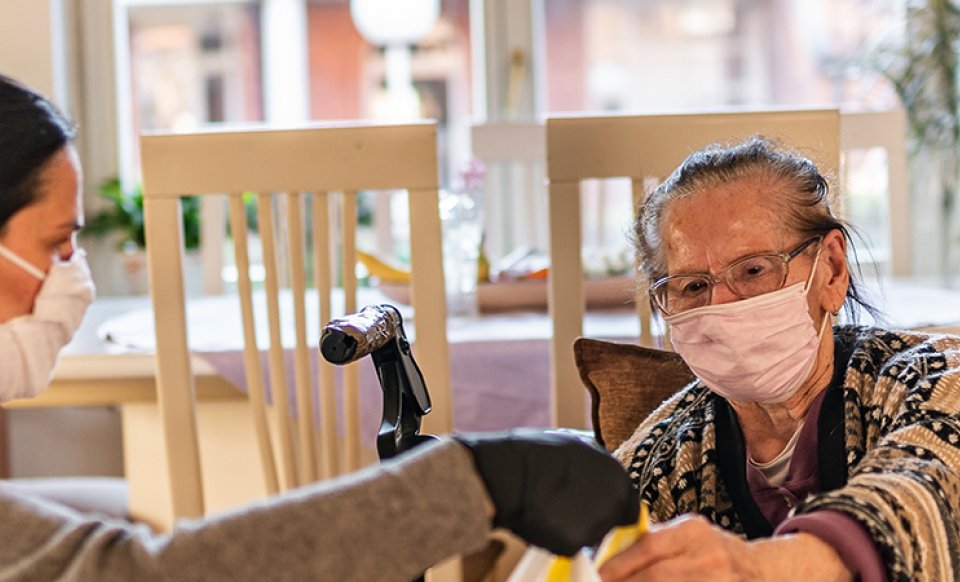 Supporting our Communities
Belgium
As part of NN Belgium's ongoing collaboration with the University of Ghent to study the level of happiness of Belgians, we are conducting research on the impact of the coronavirus on the happiness of Belgians. This research aims to measure the mental well-being and happiness of Belgians before and after the crisis.
Czech Republic
NN Czech Republic donated EUR 10,000 to its partner organisation 'yourchance' to support them in developing materials for home schooling, dealing with loss of income, and directly helping with teaching in orphanages.
NN Czech Republic organised an employee challenge to provide masks to care homes
NN Czech Republic 3D-printed protective face shields.
In the Czech Republic, 150 employees took part in a challenge to support single parent families, lonely seniors and people in senior care homes.
NN Czech Republic provided financial and personal assistance to the elderly – the group most vulnerable to the ongoing coronavirus pandemic:
Donation of EUR 7,700 to The Beauty of Help Foundation

Employees donated their cafeteria benefit points worth EUR 3,850 to The Beauty of Help Foundation

Employees sent online postcards to 256 seniors

We delivered 14,300 orange tulips to senior care homes across the whole country

NN Czech Republic partnered with Krása pomoci non-profit organisation to support the elderly through financial support and through NN employees volunteering to distribute food purchases and face masks to the elderly in Prague.
Greece
NN Hellas made a donation to support the Greek national health system's efforts related to the coronavirus pandemic.
NN Hellas, in collaboration with JA Greece, offered home access to the innovative career orientation programme 'My career' to more than 1,000 students from all over Greece. NN Hellas donated tablets to those who declared participation to the programme, helping to cover their needs in technological equipment.
Hungary
NN in Hungary launched a video series on Facebook featuring well-known psychologists to help people handle distress and mental challenges.
NN in Hungary donated approximately 120 computers and monitors to families to support children with their remote education
NN in Hungary donated approximately 500 pieces of furniture to a children's hospital to support the institution's daily work.
By its donation NN contributed to Christmas gifts for 50 childrenfrom families in financial need.
Japan
NN Life Japan donated 7,500 medical masks for PCR testing to the Shibuya Medical Association.
The Netherlands
Nationale-Nederlanden donated EUR 150,000 to Voedselbanken Nederland, the association of Dutch food banks, in order to help the food supply to continue.
NN Group's IT colleagues made dozens of used laptops available via our NN Future Matters partner, the LINDA.foundation.
Nationale-Nederlanden launched the campaign 'de Helden van Nederland' as a platform for people to show their appreciation for their heroes during the coronavirus pandemic.
The Dutch Association of Insurers, of which NN is a member, donated money to ZWiC, a foundation that financially supports healthcare workers who were hospitalised in intensive care, incapacitated or who passed away due to Covid-19.
Approximately 350 colleagues in the Netherlands participated in a training that was developed by the National Institute for Family Finance Information (Nibud). This training enabled our colleagues to help people in their close environment as a home administration volunteer. This way they can help friends, family and acquaintances that are financially affected by the coronavirus pandemic.
NN Investment Partners
NN Investment Partners donated 140 items of IT hardware to children in poverty via Stichting Kinderhulp.
Poland
Nationale-Nederlanden Poland joined forces with AXA, Generali and Unum to transfer EUR 88,000 for the Central Clinical Hospital of MSWiA in Warsaw, the main hospital for infectious diseases that treats patients suspected of having the coronavirus.
Together with NN TFI and Notus, Nationale-Nederlanden Poland joined a program to finance SARS-CoV-2 tests implemented by Warsaw Genomics.
Nationale-Nederlanden Poland and the Academy (an organisation that supports local communities) joined forces to provide grants supporting grassroots charitable initiatives that reach local communities.
Nationale-Nederlanden Poland supported Alivia Foundation in the organisation of ONKOTAXI campaign which enabled cancer patients to travel to medical centrs using free taxis.
Nationale-Nederlanden Poland supported the Foundation 'We give strength to children' (Dajemy dzieciom siłę) in providing psychological support to children.
Romania
NN Romania donated over EUR 200,000 for ventilators and breathing monitors, vital for treating critically ill patients affected by coronavirus. The donation will benefit a hospital designated as the support centre in treating Covid-19 in Romania.
Slovakia
NN Slovakia's Foundation 'NN for People' supported Slovak doctors in the cities of Bratislava and Kosice, by donating 200 respirators (type FFP3).
NN Slovakia employees donated blood for Slovak hospitals
NN Slovakia employees made donations in kind to lonely seniors who live in retirement homes such as cards, Christmas gift boxes
Spain
Nationale-Nederlanden Spain donated EUR 20,000 to Aldeas Infantiles SOS to support their efforts in helping 201 children who attend their daycare centres in Madrid and their families for ten days. Educators help the families by monitoring schoolwork and suggesting activities during the lockdown, monitoring family dynamics and providing psychological aid, healthcare and food. Aldeas Infantiles also opened a special donation page for employees and customers to support Aldeas Infantiles SOS.
Nationale-Nederlanden Spain financially supports the UNESPA initiative, among other companies, to create collective life insurance for hospital staff and clinicians during the coronavirus pandemic. With the fund, valued at EUR 37 million, UNESPA will subscribe a collective life policy and hospitalisation subsidy insurance for an estimated 700,000 healthcare professionals.
Turkey
NN Turkey made a donation to support the campaign of the Turkish Ministry of Family, Labour and Social Services to help combat the Covid-19 pandemic.